This super easy Yam Potato Mash is going to be your new favorite Healthy carb! This is super simple and has a sweet flavor!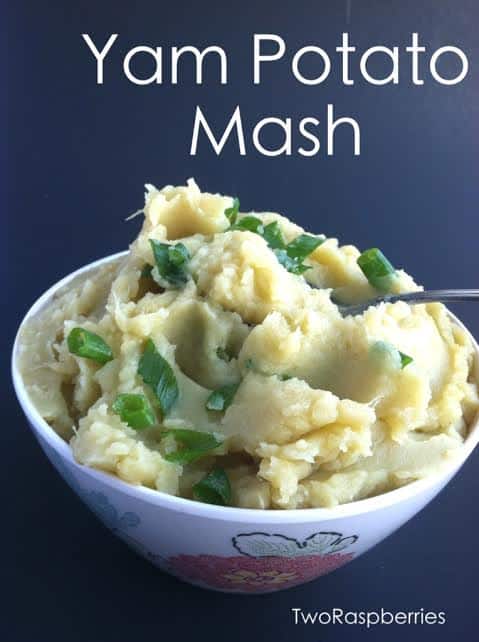 Ok so as if it's not already obvious I have a serious carb addiction! I mean who doesn't love carbs of ll kinds? It's like the happy feeling food!
So today we got a little healthier than your regular mashed potatoes, we used white yams!
I'll be honest though... This recipe was kinda an accident! But a dang great one if ya ask me!
I've never made white yams before, I thought I had purchased sweet potatoes... I mean they look pretty darn close to the same thing right? ... Well I started peeling and I was like what the heck! Their not the right color! Lol
Well I decided to proceed with my plan anyways and guess what? It tastes amazing! 🙂
I'm sure I'm like the only person on the planet that has never had white yams before hu? ... And someone please correct me because I'm sure white ya s is not even what they are technically called!
anyways have you had them? How did you make them?
Moving on, this Yam Potato Mash is so thick and dense not white and airy like the boxed stuff... It's got a little almond milk and butter to give it a creamy texture and then maple syrup to give it extra sweetness! And I like adding green onions of scallions to give it a nice clean taste.
And if you want it to taste like dessert or maybe you make this around the fall holiday season, add in some cinnamon or your favorite spice causeee it's ah-mazing!
And please don't hate on me for mentioning the holiday season cause as much as I love summer, it's going SUPER fast...TOO fast!  and before we know it, the holiday season will be here! 😉
So try the Yam Potato Mash and let me know if you loved it! And share how you usually make your yams!
Print
Yam Potato Mash - Vegan - Gluten Free
Yam Potato Mash - Vegan+GF
Author: TwoRaspberries
Prep Time:

5 mins

Cook Time:

35 mins

Total Time:

40 mins

Yield:

6

1

x
Category:

Potatoes
3

large white yams

⅓ cup

unsweetened vanilla almond milk

1 TBSP

vegan butter (I use Earth Balance in the red tub)

1 ½

TBPS maple syrup

½ tsp

sea salt
Optional:
Green onions/scallions
For a treat taste add cinnamon!
Instructions
In a very large pot put about 1 inch of water in the bottom
Wash , peal (optional) , and chop yams
Add all the yams into the pot and turn on med/high heat for 30-40 minutes depending on how big of chunks you cut them into
Strain the yams and place in a large bowl, use a fork to mash them up really smoothly!
Add your almond milk, butter, maple syrup, salt, and green onions and stir everything together!
Serve and enjoy!
Makes about 4 side dish servings