Healthy Detox Quinoa Bowl, super quick and easy to prepare, left overs are great the next day, only 9 ingredients! Vegan and Gluten Free.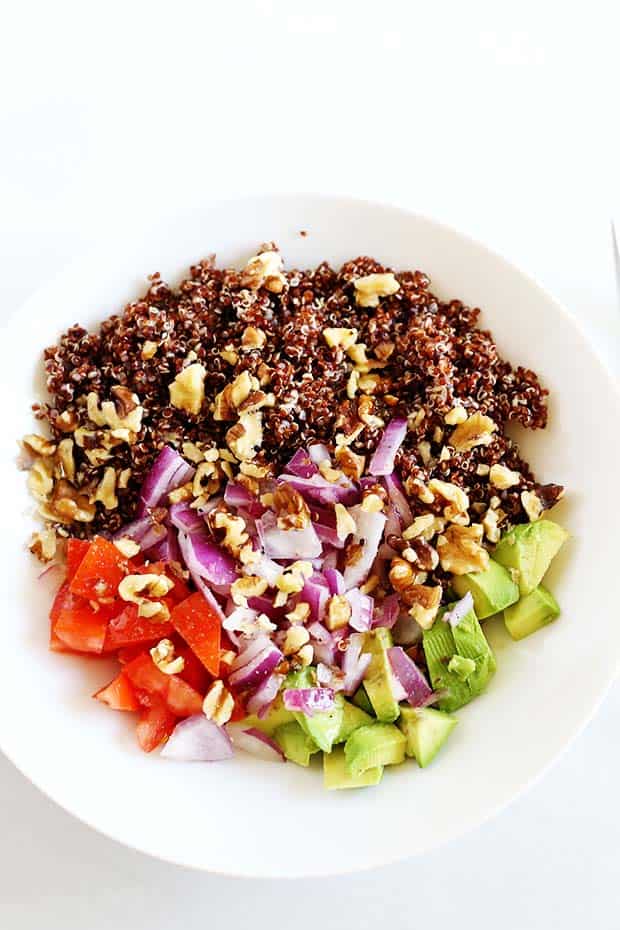 I love being able to make extra of certain things so lunch or dinner is already done the next day!
Quinoa is one of my go-to healthy essentials that you can pretty much add anything too and it will tastes great!
I added a bunch of textures to this bowl, crunch from the walnuts, spicy from the onion, juicy from the tomato and creamy from the avocado! And the dressing is light a fresh with a hint of lime!
It is perfect for lunch, I usually make a decent amount so I can store it in the fridge for lunch the next 2 days as well.
I love using quinoa because it's a complete protein food, it contains all 9 of the essential amino acids, it also contains almost twice the amount of fiber than most other grains.
It has iron, lysine, magnesium and riboflavin (B2) and a high content of manganese as well!
(Info was from mindbodygreen.com)
As I am trying to incorporate more healthy foods into my diet I'll continue to share little bits and pieces of what I learn from researching things, but don't worry it won't get to be too much because I am a believer that knowing too much isn't always a good thing! I like to stick to the basics in life otherwise I tend to get a little obsessive thinking over things! AND FOOD IS MEANT TO BE ENJOYED!!! 😉
Anyways you totally need to try this because not only does it taste great and has a lot of health benefits but it's EASY and you can prepare extra to store in the fridge!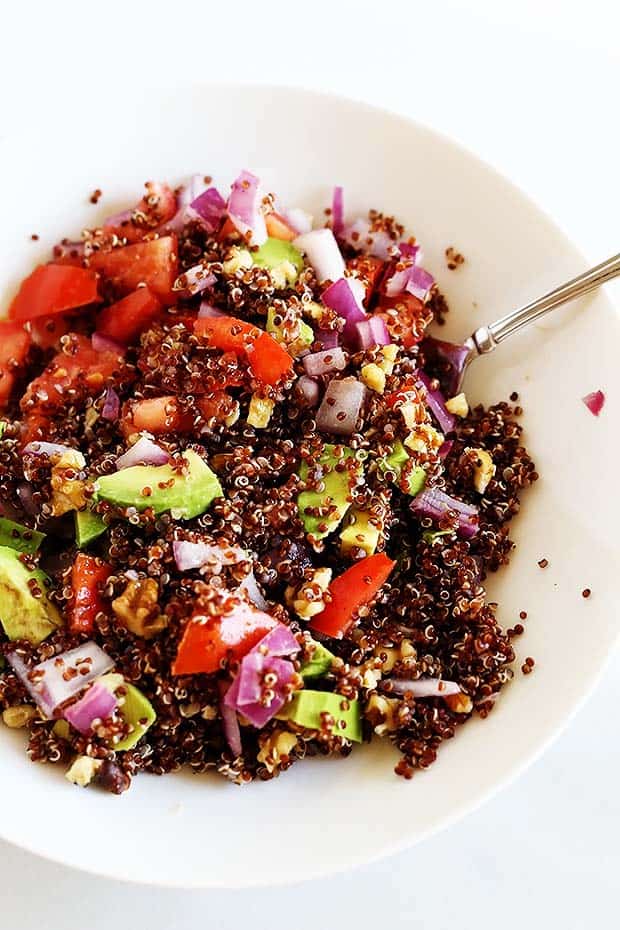 So when you try it, take a pic and tag me on TwoRaspberries and sign up for emails BELOW so you never miss anything! XXX
******************************
*****************************
Print
DETOX Quinoa Bowl
Healthy Detox Quinoa Bowl, super quick and easy to prepare, left overs are great the next day, only 9 ingredients! Vegan and Gluten Free.
Author: TwoRaspberries
Prep Time:

10 mins

Cook Time:

20 mins

Total Time:

30 mins

Yield:

2

-4

1

x
Category:

meal
1 cup

dry red quinoa I like the TruRoots brand (read package for instructions on how to cook, usually

1 cup

dry is

2 cups

water)

½ cup

chopped walnuts

½

chopped red onion

1

large tomato chopped (or

two

small ones)

1

whole avocado chopped up
Dressing:

4 tbsp

olive oil
Juice from

1

lime

½ tsp

onion powder
Salt/Pepper to taste
Instructions
Prepare you quinoa according to directions on your package, min was 1 cup dry to 2 cups water brought to a boil and si merged with a cover for 20 minutes
While quinoa is cooking, chop your walnuts, onion, tomato, and avocado and set aside
Prepare dressing by mixing olive oil, like juice, onion powder, salt and pepper in a bowl and mixing really well and set aside
Once quinoa is done, you can either plate it like pictured above or you can mix everything together in a large bowl (I generally mix everything, the separation was mainly for the pictures).
Serves 2 large serving or 4 small sides
Notes
Notes: make the quinoa in advance and can store in the fridge for up to 3 days, chop and add ingredients when ready to eat, all ingredients are ok to add in advance and store in fridge except for the avocado, that should be cut fresh when ready to eat.
Great served with warm quinoa or cold from the fridge, I prefer from the fridge!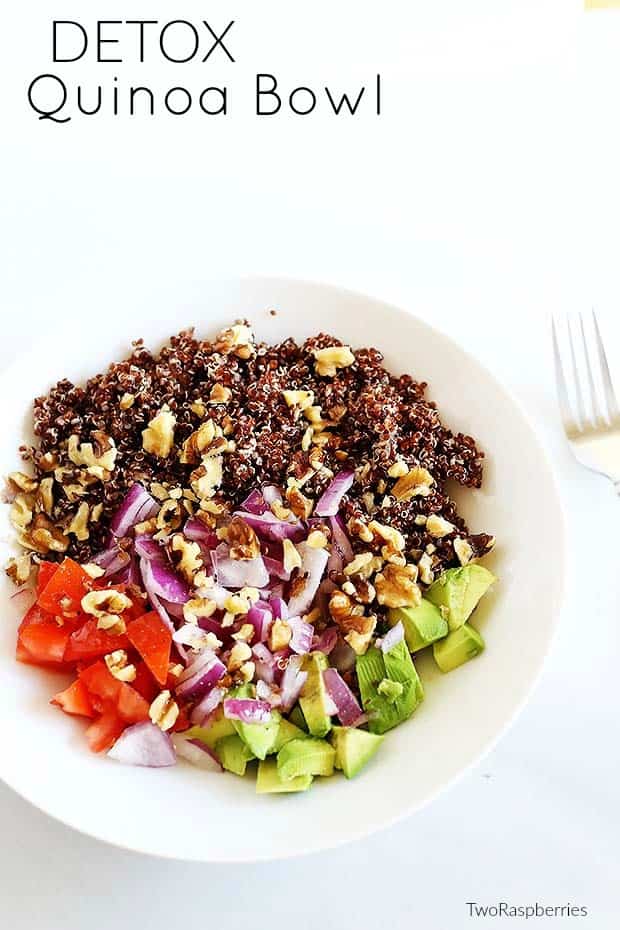 everything to love about quinoa!
you might also like these: