this Tomato Basil Oregano Marinara  is HOMEMADE! super EASY and Tastes ah-mazing!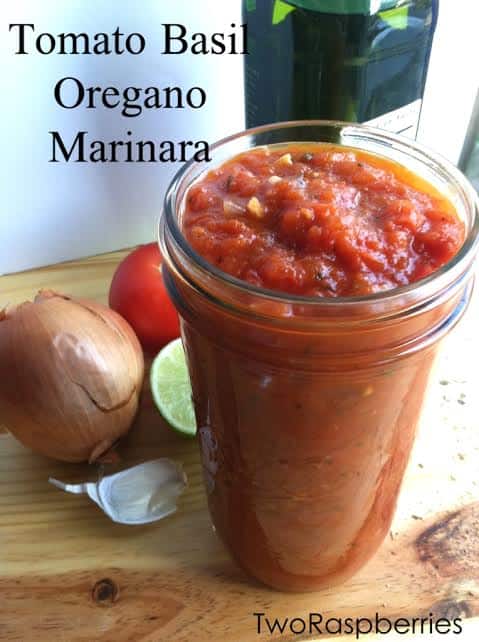 I am SO SUPER EXCITED about this recipe! I've never made homemade pasta sauce before and this turned out bomb!  It litereally tastes like true Italian pasta sauce! it kinda even reminds me of Italian Pizza sauce! YUM-O!
In case you didn't know this, I have an obsession with pasta, nowdays it's usually GF pasta... but I have been a pasta fanatic for as long as I can remember!
when I was younger I really just liked my pasta with butter, plain and simple ... but now that I'm older I realize all that butter probably wasn't the best thing ... hey I was young and stubborn ok? 😉
so I turn to Marinara sauce/red sauce/pasta sauce whatever you want to call it, 0nes with clean ingredients and not too much sodium, that's a bit healthier than butter!
not that I don't have butter from time to tim too but I tryyy to be healthy within reason!
and it doesn't get much healthier than this! being a homemade sauce you know exactly how much of everything and what goes into it! this will NOT be the last time I make this!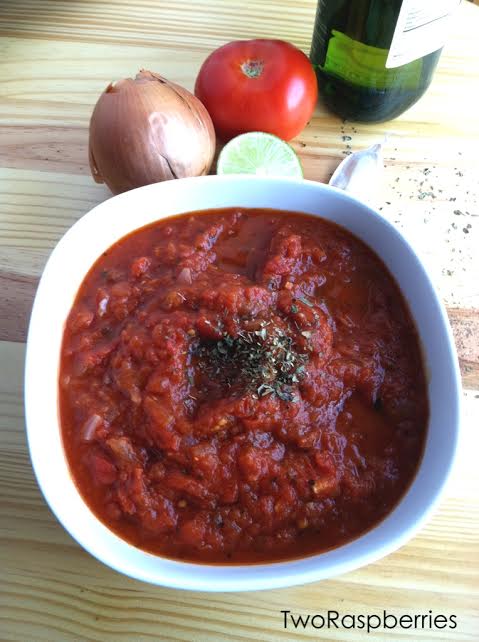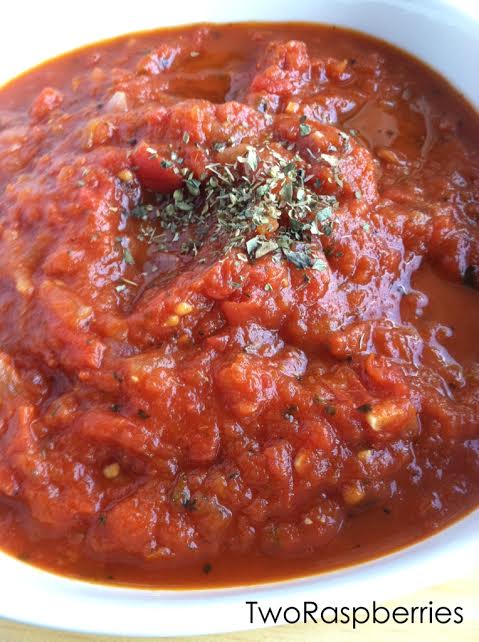 now, if you don't have your own garden I will urge you to go to a farmer's market or something to get your tomatoe's because if you buy 10 organic tomatoe's from your grocery store, you'll probably be coming back leaving a comment like are you nutz! expensive! lol
I pulled about 7 of these 10 from my garden so it was more reasonable so definitely check out your farmers maket if you don't have a garden! 😉
anyways:
do you have a favorite sauce flavor?
have you ever made your own?
either way I really hope you try this Homemade Tomato Basil Oregano Marinara Sauce! I promise you are going to love it!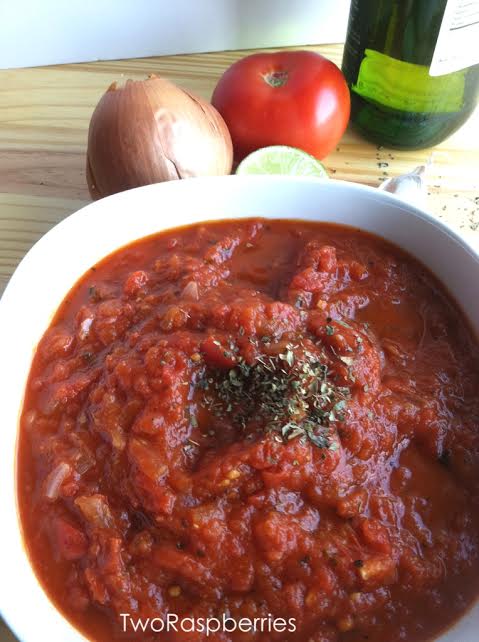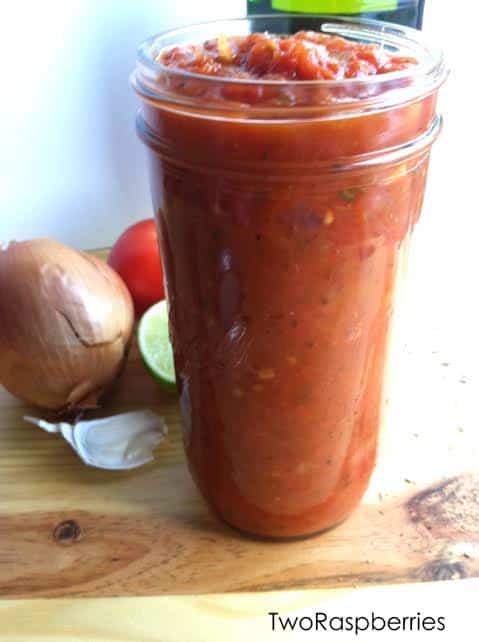 Print
Tomato Basil Oregano Marinara
Tomato Basil Oregano Marinara
Author: TwoRaspberries
Prep Time:

10 mins

Cook Time:

40 mins

Total Time:

50 mins

Yield:

28 oz

1

x
Category:

Sauce
10

Large Tomatoe's

4 oz

. tomato paste

½

Lime (juice from it)

1

-

2

teaspoon dried oregani

1

-

2

teaspoon dried basil
sea salt
pepper

1

-

2

teaspoon sugar

1 ½ Tbsp

Olive Oil

1

Onion (whichever color you like best)

1

-

2

garlic cloves
Instructions
first start by chopping your onion and garlic really tiny and adding it to a large pan on medium heat with your olive oil and let simmer (about 10 min) while you prep the rest of your other ingredients
chop your tomatoes into large chunks (squeeze the seeds out if desired, I didn't about half with and half without seeds) and add them into a food processor (do 2 batches if necessary) and puls them... if you like chunky sauce pulse until broken up, if you don't like chunky then pulse more until completely broken up
after onion and garlic have simmered about 10 minutes add your processed tomatoe's and tomato paste
let cook for about 20 minutes on medium heat with a cover- stirring often
after 20 minutes add your basil, oregani, salt, pepper, lime juice and sugar (optional)
stirr and let simmer on medium heat about 10-15 more minutes
once done LET IT SIT TO COOL DOWN it will be VERY hot
and enjoy!
Notes
this recipe makes about 26-32 oz. depending on the size of your tomatoe's
feel free to add mushrooms for the last 10 minutes of cooking if desired!