Amazing Blueberry Muffins that are VEGAN! perfectly moist with a crunchy top! great for breakfast or an afternoon snack with some coffee!
ya know that muffin? the one that tastes so perfect with a cup of coffee? yeahhh you know what I'm talking about now! ...
well lately THIS Amazing Blueberry Muffin has been my weekness! the perfect flavor and textures just make a morning (or in my case afternoon) cup of coffee that much more savory!
there are a lot of things I enjoy but I have to say, some quiet + quality time spent visiting over a cup of coffee and some sweet goodies has got to be one of my top favorites!
what are you favorite sweets to enjoy with coffee?
this summer has been wonderful! our garden has had a couple complications lol an update is coming on wednesday but basically live and learn and GET BIGGER POTS NEXT YEAR! 😉 it's ok though, we still had a great amount of produce!
and I don't think I have mentioned this at all this year but we have been rollerblading the pupperz again this summer! our Jack Russell Kooper = too much energy that we must tire him out more often 😉
and our Jack Russell chihuahua mix Kush ... bit different story, you say car ride and he's all game for that but you say walk or rollerblade HA he says you gotta catch me first!
both them definitely keep life interesting! ... this is what they look like after a walk or rollerblade! LOL Kooper is all chillaxed and Kush is bummbed it wasn't a car ride! but usually when we get back from a walk I give him ice cubes he LOVES to chew them up! not sure it's actually good for them but he likes it!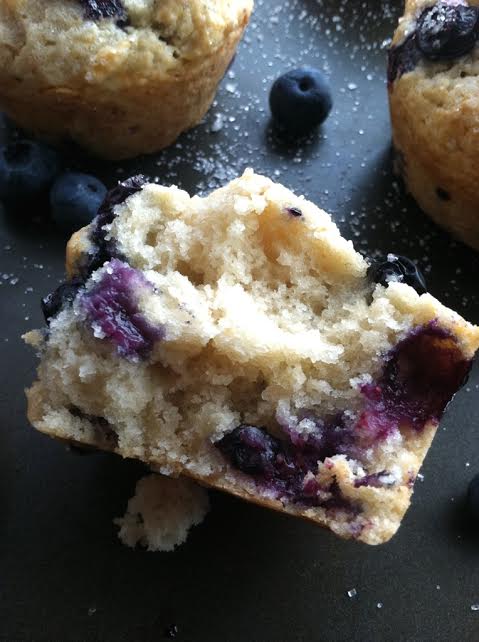 anyways on to the muffins! the top has the perfect amount of crunch and the center is SO moist and soft!
I put extra sugar on the top to give it more texture so you get the crunchy muffin top texture paired with the sugary sweetness!
and when you bit into a blueberry... OMGEEE it's like a burst of flavor! now in my opinion blueberries aren't as sweet as some other fruits but they have their own unique flavor, kinda fresh, kinda sweet, a little bit gooey once it's baked and a whole lotta pretty color!
I'm a ... eat the muffin top first kinda girl 😉 what about you? top or bottom first? do you have a favorite?
anyways, I hope you try these and LOVE them as much as we did... I mean I made a couple batches of these babies 😉 let me know what you think!!!
Print
Amazing Blueberry Muffins - Vegan
Amazing Blueberry Muffins - Vegan
Author: TwoRaspberries
Prep Time:

7 mins

Cook Time:

23 mins

Total Time:

30 mins

Yield:

7

1

x
Category:

Muffin
Dry Ingredients

1 ½ cup

all purpose unbleached flour

2 tsp

baking powder

½ tsp

sea salt

½ cup

vegan cane sugar + more for topping
Wet Ingredients

½ cup

unsweetened vanilla almond milk

½ tsp

apple cider vinegar

⅓ cup

unsweetened natural applesauce

¼ cup

vegan butter melted (I used earth balance in the red tub)

1 tsp

vanilla

¾ cup

blueberries (I used fresh but frozen probably works too)
Instructions
Pre heat your oven at 375 and spray your muffin pan with non stick spray
In a small bowl mix your almond milk and apple cider vinegar and set aside
In a medium sized mixing bowl combine all your dry ingredients
Melt butter in a small bowl, and add your other wet ingredients including the almond milk mixture and stir well
Add wet and dry ingredients together be careful not to over mix, stir the mixture, it should be lumpy not smooth
Stir in blueberries keeping a couple aside for topping
Pour mixture into the muffin pan filling a little more than ¾ full
Top each muffin with blueberries and sugar
Place in oven and bake for 23 minutes
Let cool for 15 minutes before eating
Makes 7 muffins
Notes
these are notes that readers have let me know they swapped ingredients for and it was still a success, I have not personally tried them but I wanted to make a note of them anyways, please do not try to use all of these substitutions at once as each update is from a different person NOT all three substitutions at the same time!
UPDATE: Priscilla AKA: plantbased__babe on Instagram let me know that she tried this recipe with Spelt flour and it worked great! you can check it out here!
UPDATE: a reader let me know she used soy yogurt in place of applesauce and it turned out great for her! I have not personally tried it but I just wanted to add this note!
UPDATE: a reader let me know she used coconut oil instead of butter and it turned out good! I have not personally tried it but I just wanted to make this note.
you might also like this: