This homemade oat milk recipe is super easy, only requiring a couple ingredients and comes together in about 5 minutes! Plus tips to prevent the slimy texture.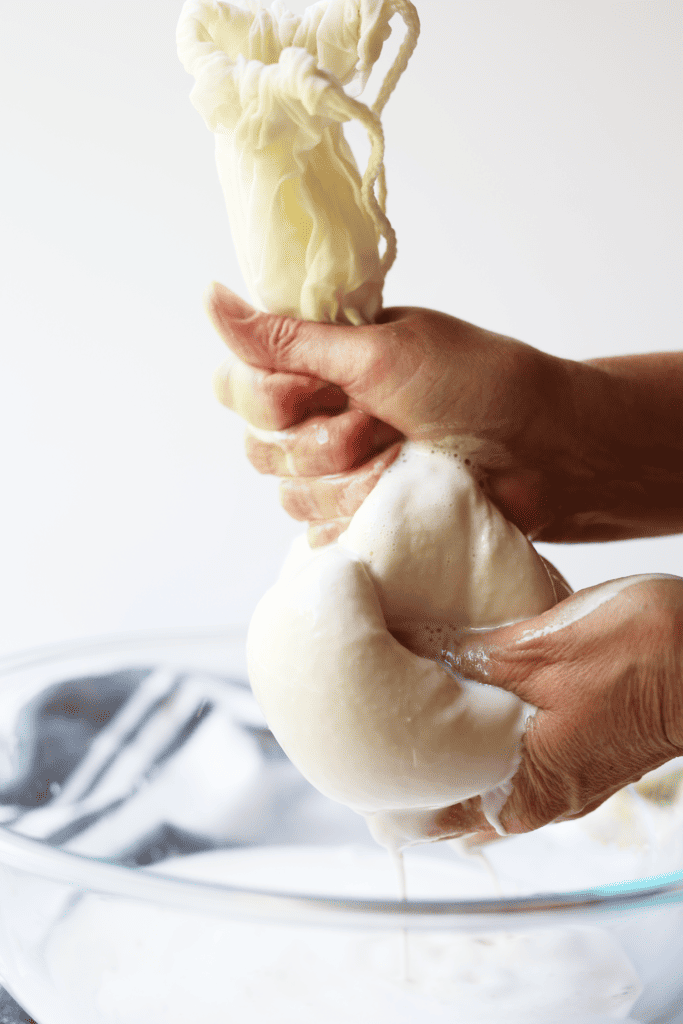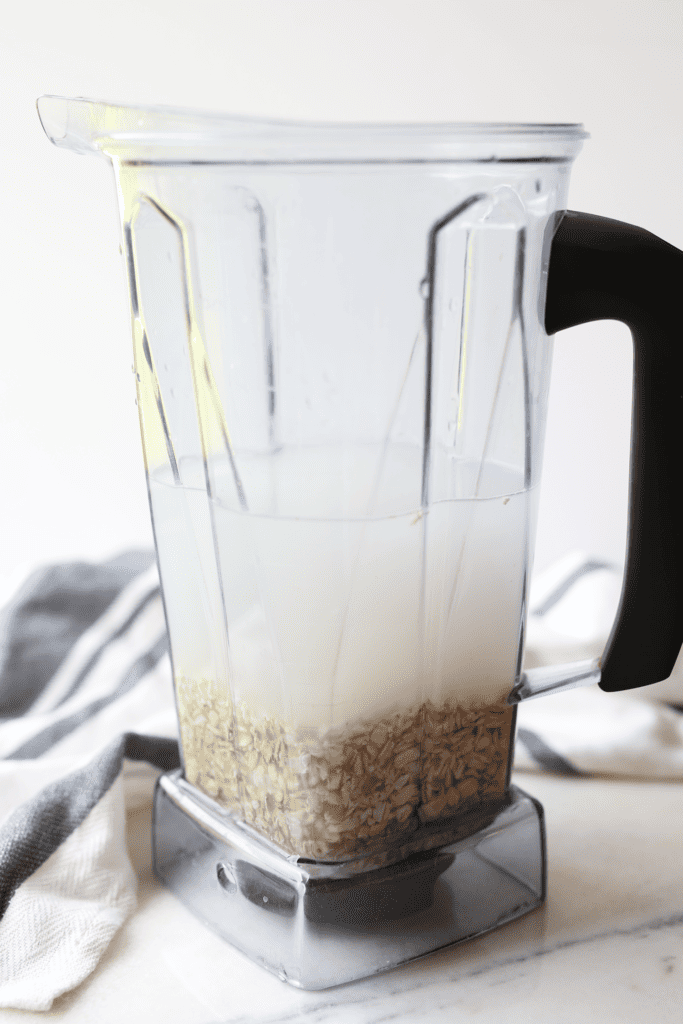 How to make Oat Milk
Oat milk isn't much different from making Almond, Cashew or Coconut Milks, you simple add you ingredients to a blender (in this case oats and water) and blend until all broken up, then you strain through a nut milk bag, after that you can either enjoy it or you can add is back to the blender to add your sweetener of choice as well as a flavor option if you choose too.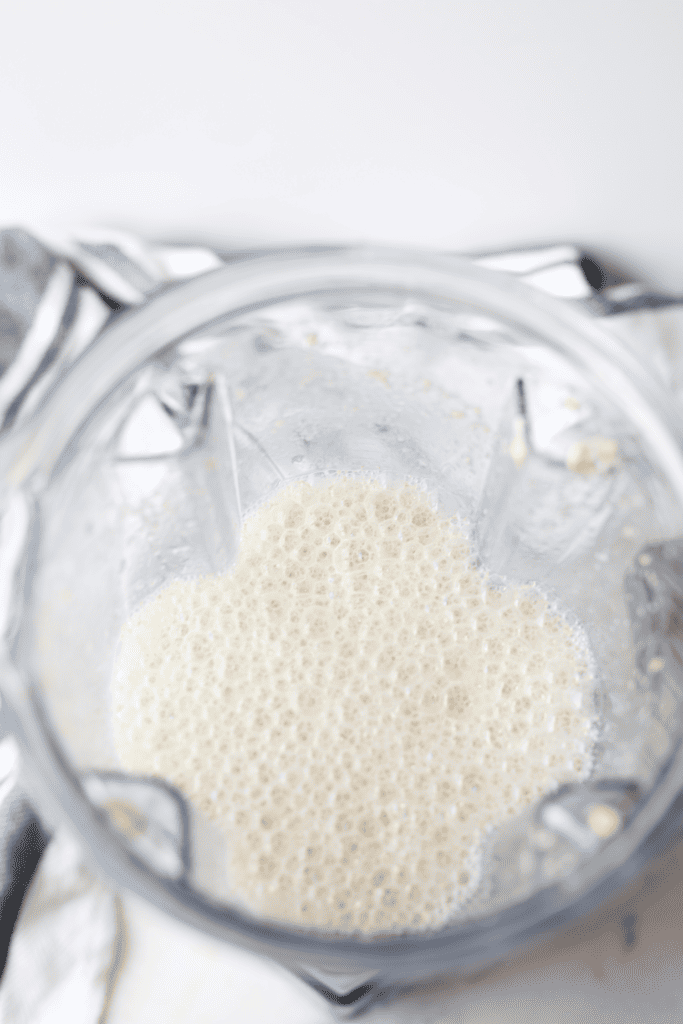 How to flavor homemade dairy free Milks?
I like to blend the oats and water first by themselves and strain through a nut milk bag then after that you can simply add it back to the blender and blend for about 15 seconds with a pinch of salt and vanilla for a nice plain unsweetened version or if you feel like getting a little fancy you can add a sweetener such as pure maple syrup or vegan cane sugar.
For other flavors such as chocolate you can add plain unsweetened powder but make sure you don't skip the sweetener if you choose to make it chocolate cocoa sweetened because without a sweetener it will taste very bitter!
A good rule of thump is to start out small because you can always add more, I would start with 1 tablespoon sweetener and 1 tablespoon cocoa powder per 16 oz. of oat milk, then adjust and add more if desired.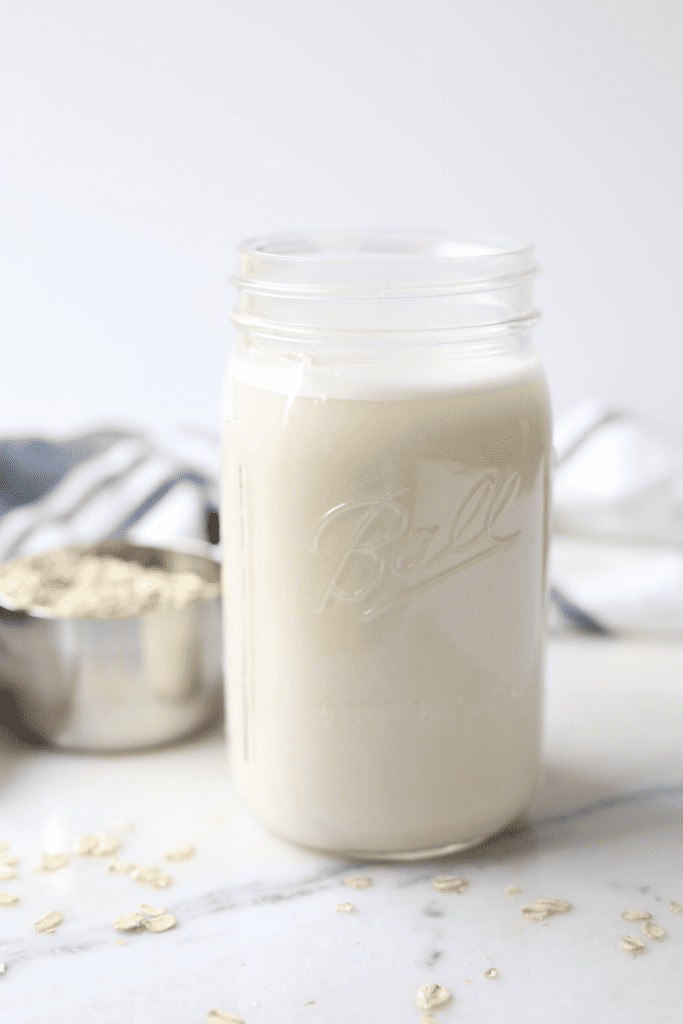 More frequently asked questions about how to make Oat Milk:
What is oat milk?
A grain based milk that is dairy and nut free.
Is oat milk gluten free?
Yes as long as you use gluten free certified oats.
How long does oat milk last in the fridge?
About 3 days, some people say up to 5 but I personally don't think it's good that long.
How to keep oat milk from being slimy?
Sometimes it's just un-avoidable but some tips to help prevent it would be, do not soak the oats use raw old fashioned rolled oats. Try not to over blend, I try to only blend for about 30 seconds this is why a high speed blender is your best option when making homemade milk. (I use a vitamix)
How to keep oat milk from separating?
Seperation in homemade milk is inevitable, just simply shake well before consuming.
Do I need a nut milk bag?
Personally I will say yes to that, I tried it myself with a fine mesh sieve/strainer and it just didn't do as well as a nut milk bag, there was too much texture left behind for my liking.
If you want more "how-to's" check out my "Back to Basics" category where I am adding everything that's not really a "recipe" but things that are more like a tutorial or how to do/make something.

Print
How to make Oat Milk
How to make oat milk quick and easy with just a few simple ingredients and a blender.
Author: tworaspberries
Prep Time:

5

Cook Time:

5

Total Time:

10 minutes

Yield:

5 cups

1

x
Category:

drink

Method:

blending
1 cup old fashioned rolled oats (GF certified if needed)
5 cups of water 
Optional: (added after initial blending and straining)
Pinch of sea salt
1 TBSP pure maple syrup or vegan cane sugar
1 TBSP plain unsweetened cocoa powder
Instructions
Add oats and water to high speed blender and blend for about 30 seconds.
Pour into nut milk bag over a large bowl and squeeze/strain the milk out.
If you want to make a flavored option simply add the oat milk back to the bender with desired sweetener/flavors and blend for about 15 seconds.
Store in fridge, shake well before consuming and enjoy within 3 days.
Keywords: how to make oat milk, non dairy milk, dairy free milk, oat milk, oats