How to make Strawberries and Cream Oatmeal. It's a healthy strawberry oatmeal recipe that's creamy, vegan, gluten free and super quick and easy to make.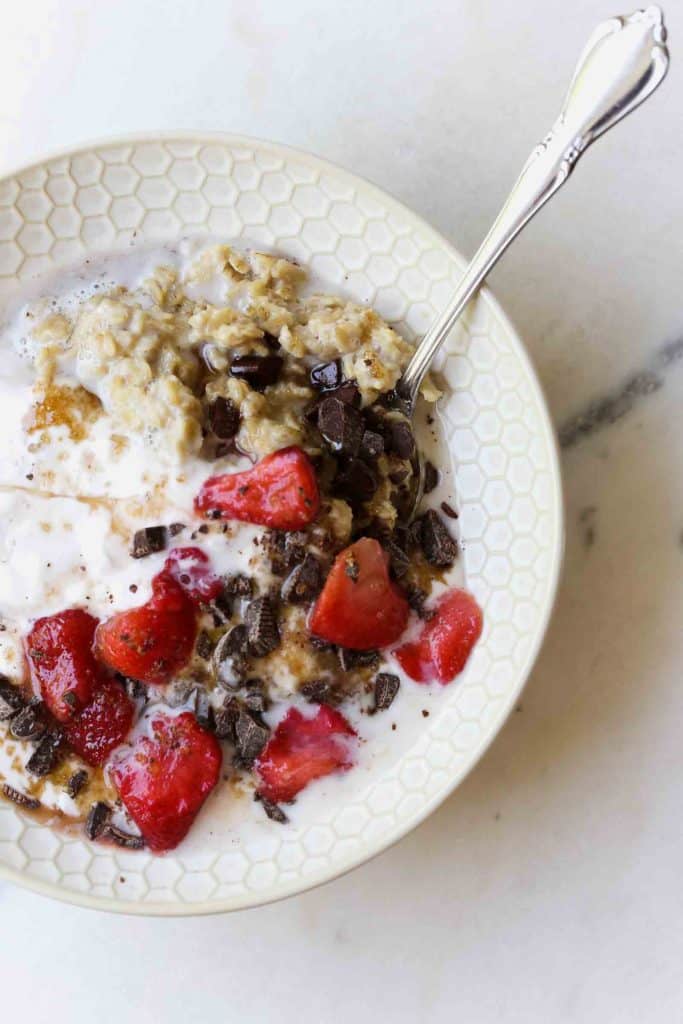 Why we love this Strawberries and Cream Oatmeal:
It's creamy it's indulgent, it's healthy whattt? Yep! It's super quick and easy to make and it goes by the name of Strawberries and Cream Oatmeal! As if those aren't enough claims to make you want to make this recipe ASAP let me also add that's it's homemade, vegan and gluten free and might I say borderline dessert worthy, like yeah you could totally eat this as dessert but it's also 100% acceptable for breakfast!
This is way better than your quaker strawberries and cream quick oat packet. This oatmeal and strawberries recipe is such a tasty combination especially when paired with yogurt to make it Strawberries and Cream oatmeal. I love that this recipe not only tastes indulgent but it's actually super healthy. I really love breakfast bowls like this because they are filling and also satisfy your sweet tooth at the same time. If you love oatmeal bowls as much as I do you would also love my Favorite Chia Oat Breakfast Bowl it's another go-to of mine. I can't wait for you to try this recipe and let me know what you think!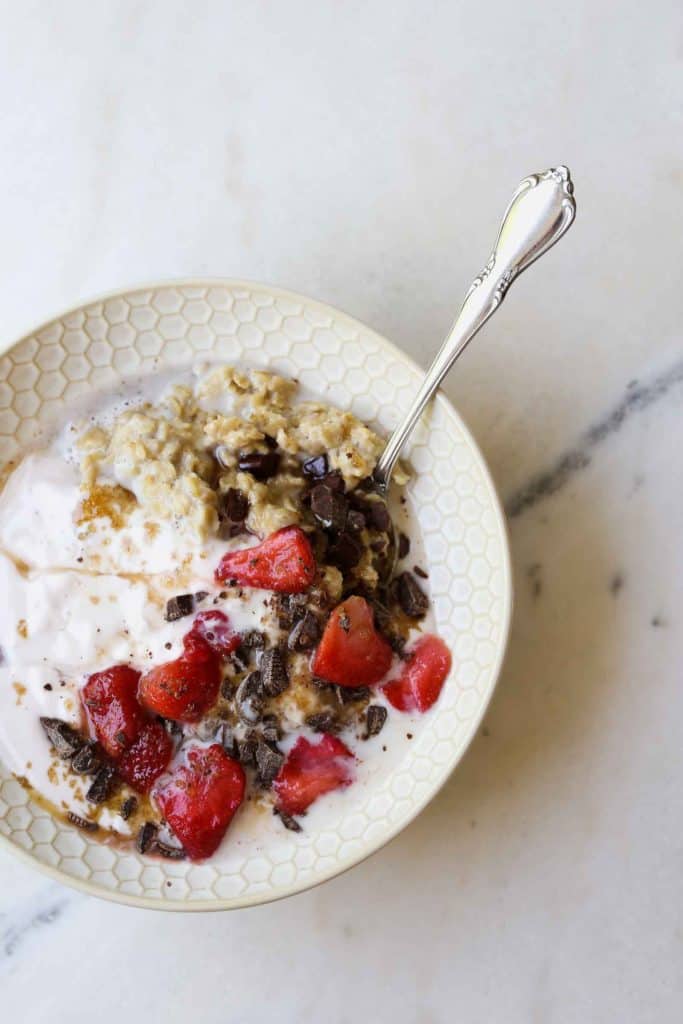 The Ingredients you will need for this Strawberry Oatmeal recipe:
old fashioned oats
non-dairy milk
brown sugar or coconut sugar
Pinch of sea salt
Non-dairy strawberry yogurt
Fresh Strawberries
chocolate chips/chunks - love the extra sweetness
Pure maple syrup - the real stuff not the fake stuff with added HFCS.
How to make this Strawberries and Cream Oatmeal:
First you start with your oats maybe that's obvious. You have two choices from there either add your non-dairy milk (or regular if you're not vegan) OR if you don't have any on hand just plain ol' water works just fine because we have enough creamy-ness and flavor with the rest of the ingredients.
Next you can either microwave or you can cook it on the stove top. I opted for the microwave because 1 word… dishes… not a fan so why bother dirtying out a pot and a bowl? But you do you what ever you like best!
After the oats are cooked and you stirred indoor desired sweetener you can assemble! Add that strawberry yogurt (or make strawberry sauce mentioned in the recipe card notes also very delish but more time consuming and dirty dishes). Next a dash of milk if you like, strawberries, chocolate chunks, and a drizzle of pure maple syrup.
Our Tips and Tricks:
Use strawberry jam - ok so the recipe calls for strawberry yogurt and I also have instructions for making your own strawberry sauce if you don't have strawberry yogurt BUT if you are really in a pinch and want to make this ASAP with neither option you could use a small spoon of strawberry jame in the yogurt to flavor it. Please keep in mind that this will be much sweeter and will taste different but it will still be delicious.
Variations for this recipe:
Add in soaked chia seeds - chia seeds would add an extra boost of nutrients including omega 3's, fiber, protein and healthy fats. I like to soak mine in water for at least 10 minutes to let them turn gel like, this makes it easier to absorb and digest all the nutrients from them.
Add in hemp seeds - also another way to add in healthy fats, protein and your omegas.
Make them overnight oats - yes this would also work as strawberries and cream overnight oats if just simply soak the oats in your milk and sweetener of choice overnight and then follow the same process by adding the yogurt and topping on top the next morning.
Use a different fruit - you could easily swap the strawberries for any fruit you like as well as the yogurt flavor. Think maybe peaches and cream oatmeal blueberries and cream oatmeal or mixed berries and cream oatmeal YUM!
Substitutions:
Substitute rolled oats for steel cut oats.
Use any milk you like most it doesn't have to be almond milk, you could use dairy milk, soy, cashew, hemp, coconut anything you like.
How to store:
Although I recommend making this fresh and enjoying it, I have kept leftovers in the fridge in a storage container and it still tasted wonderful the next day but I did mix the yogurt and oats well to avoid the oats from clumping into a ball of glue.
FAQ:
I don't have strawberry yogurt, what can I do?
No worries if you have fresh strawberries and maple syrup you can make a strawberry sauce to mix into plain yogurt, see the recip notes for how to do this.
I don't have or don't like strawberries what else could I use?
You can use any flavor you like most, blueberries, mango, peach, banana anything you like, same goes for the yogurt. This may be a recipe for Strawberries and Cream Oatmeal but really you can make this flavor whatever you would like using the same process.
Can I use frozen strawberries?
Sure, if you don't mind the taste of frozen strawberries that have been thawed out. I personally don't like frozen fruit thawed out but it's definitely and option when fresh isn't available.
If you make this recipe please let me know in the comments or leave a recipe rating below it really helps me to know what you like most! Also take a pic and tag me on Instagram I love seeing what you make. @TwoRaspberries
Other oat recipes you might like:
Print
Strawberries and Cream Oatmeal
How to make Strawberries and Cream Oatmeal.  It's a healthy strawberry oatmeal recipe that's creamy, vegan, gluten free and super quick and easy to make.
Author: tworaspberries
Prep Time:

5

Cook Time:

5

Total Time:

10 minutes

Yield:

1

1

x
Category:

breakfast/lunch

Method:

microwave/stovetop
Strawberries and Cream Oatmeal
½ cup old fashioned rolled oats
1 cup non-dairy milk*
1-2 tablespoon brown sugar or coconut sugar 
Pinch of sea salt
Top with:
Non-dairy strawberry yogurt
Strawberries
chocolate chips/chunks
Non-dairy milk approx ¼ cup or less
Pure maple syrup
extra: Squeeze of lemon juice if you like to give a kick of tangy-ness
Instructions
Place oats in a microwave safe bowl or a pot if cooking stove top, add the non-dairy milk and cook. (microwave about 6 minutes, stove top stirring very frequently cook until creamy)
Once cooked stir in the brown sugar or sweetener of choice.
Add toppings (yogurt, strawberries, milk, maple syrup, chocolate chunks, squeeze of lemon for a kick of tang)
Notes
*I used unsweetened vanilla almond milk but you can use any milk you desire or you can even substitute water, obviously that will be a little less creamy but you shouldn't notice too much since the yogurt adds a lot of creamy-ness to this bowl anyways.
Fresh strawberry sauce option if you don't have strawberry yogurt:
1 cup fresh strawberries chopped
1 tablespoon pure maple syrup
(simply wash and chop strawberries, place in pot with maple syrup and stir and smash them until soft and form a think sauce, follow with the rest of the toppings as desired listed above) 
Keywords: Strawberries, cream, oatmeal, vegan
Other Breakfast Recipes you might like: