This Raspberry Chocolate Chia Oat Breakfast is naturally sweetened, easy to make, healthy and great for meal prepping!  Vegan plus Gluten free!
I hope everyone had a safe and fun Holiday weekend! What did you do? We had a great long weekend we finally had a bon fire for the first time this summer! I can't believe we hadn't had one until now! We spent a lot of time outside… that's usually what we do when we have time off and the weather is nice, outside all the time! 😉
So today I am bringing you a healthy raspberry and chocolate, superfood packed and very filling breakfast!
If you haven't read my post 12 reasons to eat chia seeds yet than you need to do that! They are literally packed with good-for-you fiber and omega's which is really helpful if you are vegan!
So there are chia seeds for extra nutrition and heart healthy + fiber filled oats for the extra filling and satisfying-ness.  Neither of them are heavily sweetened because once you add the sweet and healthy chocolate date sauce and the raspberries plus whatever other fruit you decide to add, you will realize that you don't need to add more sweetness to the chia seeds and oats because it will taste sweet enough…I promise. 😉
So to prepare this, you prepare the oats and chia seeds in separate containers overnight (read the recipe carefully) and the chocolate date sauce is also prepared… then when you are ready to eat, basically you just layer up the ingredients because it will all be ready to go!
This is really great to put in a mason jar, what's really nice is if you make enough extra you can layer them in a couple jars so they are ready to grab n' go without even having to assemble them! TIP: if using frozen berries don't add them too far in advance (couple hours is ok but not overnight) because they will thaw out and they will give off excess liquid so add them when ready to eat or in the morning before you leave. Fresh fruit is fine to add the night before.
Ok!
This Raspberry Chocolate Chia Oat Breakfast is:
Sweet
Filling
Satisfying
Healthy oats
Superfood and fiber packed chia seeds
Naturally sweetened
Try it and leave a comment and rating below! I really appreciate it 😉 also snap a pic and tag me on social media!
dessert or breakky?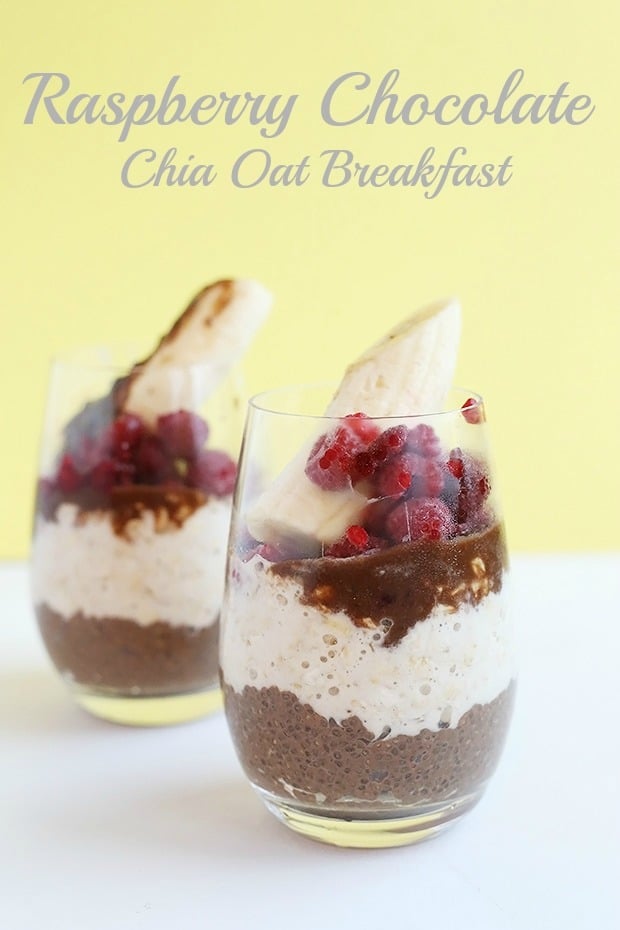 I hope you give this a try and let me know what you think!
Leave a comment and a rating if you do try this!
Also take a pic and tag us on social media!
 let's keep in touch too on TwoRaspberries, Facebook, Twitter, and Pinterest! 
want to PIN this for later? click here
and don't forget to sign up for email updates (drop your email in the box below!) 
**************************************
Print
Raspberry Chocolate Chia Oat Breakfast
Raspberry Chocolate Chia Oat Breakfast
Author: TwoRaspberries
Prep Time:

10 mins

Total Time:

10 mins

Yield:

2

Category:

breakfast/snack
CHIA MIXTURE:
- 3 tablespoon chia seeds
- 1 cup vanilla unsweetened Almond milk (I use SILK brand)
- ½ teaspoon pure maple syrup
- 1 tablespoon unsweetened cocoa powder (or raw cacao powder)
OAT MIXTURE:
- 1 cup oats
- 1 cup vanilla unsweetened Almond milk (I use SILK brand)
- ½ teaspoon pure maple syrup
TOPPINGS:
- Raspberries
- Blueberries
- Raw cacao nibs
- Banana slices
Instructions
Start by making the chia mixture. Blend together the almond milk, maple syrup and cocoa powder in a blender. Then in a container pour the mixture and add the chia seeds and stir really well.
Then make the oat mixture by adding all three ingredients (oats, almond milk and maple syrup) in a container and mixing well.
Place both mixtures in the fridge for 15 minutes and then give them another stir to avoid clumping, then place them back in the fridge overnight. If you can give it another stir in 15 more minutes that is ideal, but it will be ok if you don't.
Make the Chocolate Date Sauce, the recipe will make 8 oz. and you will only use about half of that but I suggest making the whole batch because this will keep in the fridge for up to 5 days and is great for dipping fruit in!
When you are ready to eat start layering in a cup, jar or bowl! I started with the chocolate sauce smeared on the side of the glass then I added the chia mixture, oat mixture, more chocolate sauce and fruit!
Serves 2-3
Notes
For a less thick chia pudding please add ¼ - ⅓ cup more almond milk to the pudding mixture.
you may also like these!