This Blueberry Chocolate Chia Breakfast is a complete superfood packed with chia seeds and blueberries! Great for a healthy breakfast or snack. Vegan and Gluten Free.
Happy almost Thanksgiving to everyone! I thought maybe a super food packed filling and healthy breakfast would be a really great recipe to have after ya'll fill up on too many vegan of course food tomorrow! In all honesty I don't partake in that, I'm thankful for things of course! But the stuffing my face and feeling like total crap... no I'd rather not, I like having energy and feeling my best! 😉  how about you?
on to the recipe...
Do you love blueberries? How about pudding? And chocolate? If you said YES of course to all three then I think you will LOVE today's blueberry chocolate chia breakfast!
Chia pudding nothing new right? I'm sure you have already read my 12 reasons to eat chia seeds by now but if you haven't be sure to read that also so you can totally be on board with how yummy and HEALTHY those babies are!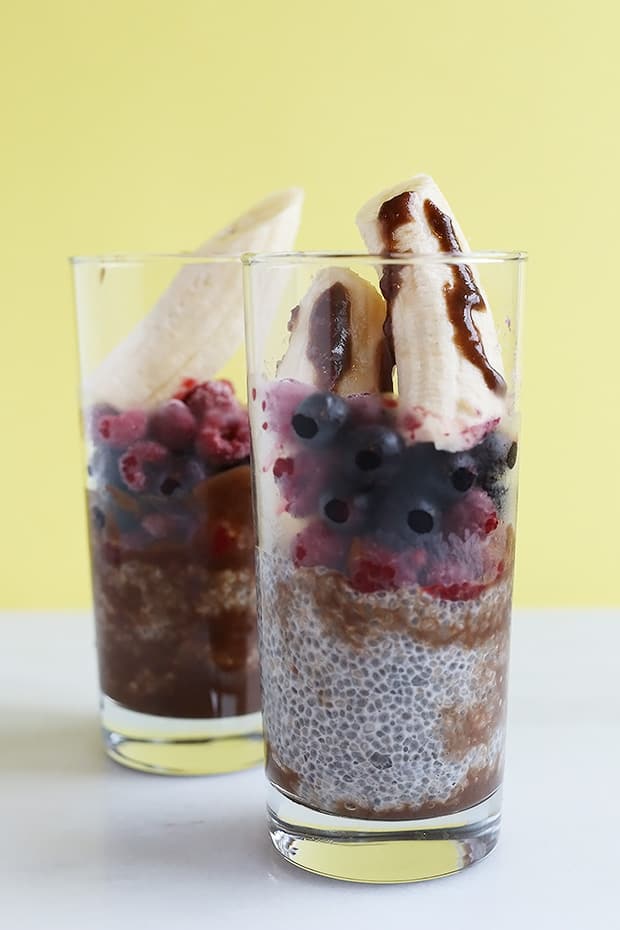 Ok, so chia seed pudding basically you just soak chia seeds in milk, I used almond milk.  Now depending on the consistency you like your pudding to be will make a difference of how much milk to add, I usually do 3 tablespoon chia seeds to 1 cup almond milk and that gives a gel like consistency but if you want it to be a little less gel like then you can add another ¼-⅓ cup !
Also I didn't sweeten the chia seeds very much in this recipe because it really doesn't need it once you add the chocolate date sauce and the fruit, that provides enough healthy natural sweet-ness that you really won't miss a thing.  Of course if you plan to eat the chia mixture alone then you may need a little more sweetener added like, more maple syrup or some kind of nut butter blended with the milk mixture like I did in this chocolate peanut butter chia pudding a couple months ago!
Another thing when making chia pudding the best way to avoid it getting all clumpy is to stir the mixture really well and place it in the fridge for about 15 minutes and then remove it and stir it really well again (repeat one more time for BEST results) before leaving it sit overnight to get plump and pudding like!
Now of course you can also mix and match the fruit and top it with your favorite!
And don't forget the chocolate date sauce! It's healthy made from medjool dates, coco powder and water! It's the natural sweetener that brings this recipe to life! So don't leave it out, mmky? 😉
This Blueberry Chocolate Chia Breakfast is:
Superfood pack with healthy chia seeds
Healthy
Protein and fiber filled
Filling
Satisfying
Quick and easy to make
Naturally sweetened
Versatile
Perfect breakfast or snack
Try this and let me know in the comments what ya think, also leave a rating it's really helpful! Take a pie and tag me on social media too I really love seeing what you make!
Print
Blueberry Chocolate Chia Breakfast
you might also like: