These Peanut Butter Overnight Oats are super quick and easy to make, super healthy, and it's like eating dessert for breakfast! Vegan and Gluten Free! PLUS a how-to video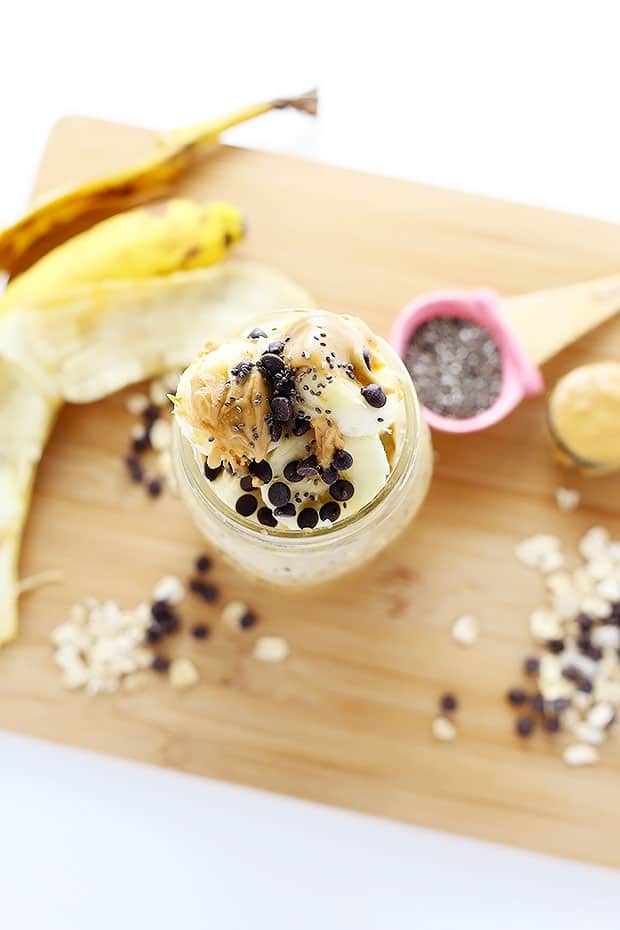 You guyssss!!!  (guys and girls you know what I mean right?!) 😉
Anyways, I cannot believe it's already the day before Christmas Eve!!! I know you are all probably super busy with everything right now and all the last minute details maybe you're having people over to your place or you're going to someone else's whatever the case may be this Peanut Butter Overnight Oats is EXACTLY what you need in your life right now!!!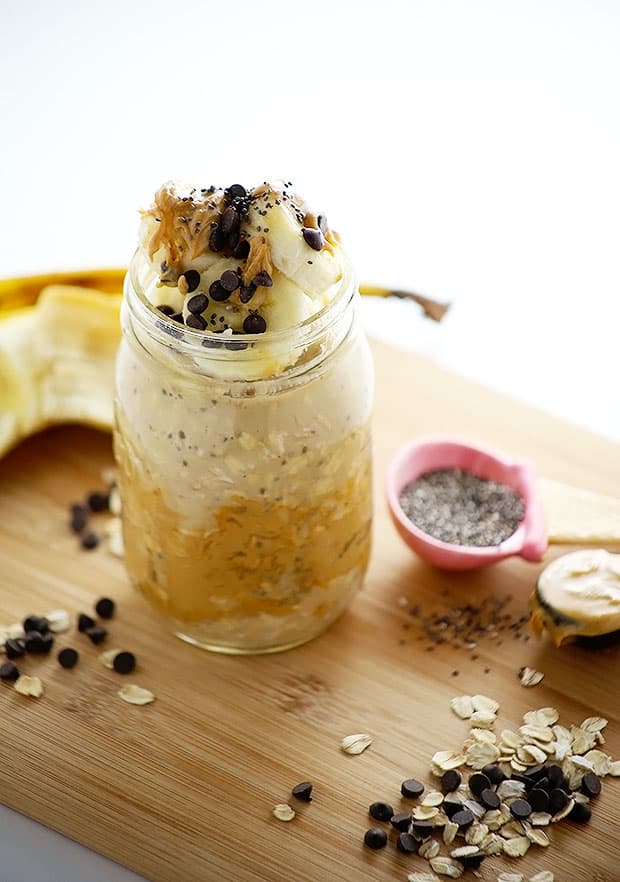 You literally can't get much more quick and easy than this, I made a video to show you how fast it really is.  Let me tell you, if you thought you were going to be tempted by all those cookies + desserts your family made, well THIS is going to save you from at least 50% of the temptation no joke!  There's a reason I chose peanut butter, I'm not sure why exactly but there is just something about peanut butter that kicks those "I need junk food" cravings to the curb! You know what I mean? Like it totally satisfies your sweet tooth and it's not even sugar! (if you buy the all-natural kind) and the Chia seeds well we all know those are good for you too if you read my other post about those!!! 😉
So also there is another reason I made the video, because I wanted to show you how I like to add my PB to these overnight oats, watch and you'll know what I mean…
I like it like that so I can scrape nice amounts of PB off the side so I get a like a spoon of PB in my mouth, and it does absorb into the oats as well so don't worry they tastes like PB too!
As far as it being "overnight" you don't actually have to let it sit that long, 1 hour is good enough if you want to wake up and decide to toss it together, get ready for the day and grab it as you head out… BUT like the name says overnight is totally cool too… I mighttt have made a big batch and kept it in the fridge for 2 days and snacked on it a bite here and a bite there… the sad thing is, I am not joking I really did HAHAHA  I don't know if it's actually good to leave it in there 2 days (is it? What do you think?) I mean it tasted great still so it was probably fine right? 😉
and lastly! I store mine in mason jars obviously! because it's the best for spill free grab-n-go breakfast foods! 😉
Another thing to note: I wrote it in the recipe notes too but just so no one gets confused, the recipe is for 1 serving but for picturing purposes I have 2 servings in the picture so if you want that much you need to double the recipe… the reason I only list 1 serving in the recipe is because if the jar is only half full you can add your toppings (banana, chocolate chips etc.) and still be able to close the jar and if it was full you would have to eat some of it before you could close it! So I just wanted to make an extra note of that! 😉
I hope you give this a try and let me know what you think! let's keep in touch too on TwoRaspberries, Facebook, Twitter, and Pinterest! 
check out some of my favorites on amazon also! 
want to PIN this for later? click here
and don't forget to sign up for email updates (drop your email in the box below!) 
this post contains affiliate links
**********************************
***********************************
Print
Peanut Butter Overnight Oats
These Peanut Butter Overnight Oats are super quick and easy to make, super healthy, and it's like eating dessert for breakfast! Vegan and Gluten Free!
Author: TwoRaspberries
Prep Time:

5 mins

Total Time:

5 mins

Yield:

1

1

x
Category:

Breakfast/Snack
2 tbsp

all natural peanut butter

¾ cup

rolled oats (certified GF if necessary)

½ tsp

chia seeds

1 tbsp

coconut sugar

¾ cup

unsweetened vanilla Almond milk (I use SILK brand)
Toppings:
anything you want, I used banana and vegan chocolate chips
Instructions
spread your PB around the inside of the jar like shown in the video, this is so you can use a spoon and get PB in each bite plus it looks pretty!
add your oats, coconut sugar, chia seeds and almonds milk, gently stir and place in fridge for at least 1 hour or overnight!
remove from fridge and add toppings, put the lid back on and you have your to-go easy breakfast!
PLEASE SEE NOTES***
Notes
Note: pictured is 2 servings, this recipe is for 1 serving which will equal the mason jar a little over half full, so when you add your toppings you can still close the top lid and have it as a to-go breakfast… it is full just for picturing purposes, if you want what is pictured you need to double the recipe!
*** I do not suggest adding chia seeds sprinkled over the top, that is just for picturing purposes. read this post (12 Reasons to eat Chia Seeds)I did for more info about why I only suggested eating soaked Chia Seeds!
drooling over peanut butter and chocolate ALWAYS.