Soft, moist, and sweet! This Amazing Vegan Blueberry Loaf Bread is the BEST sweet treat.  Just like a muffin but in the form of a loaf bread. Vegan.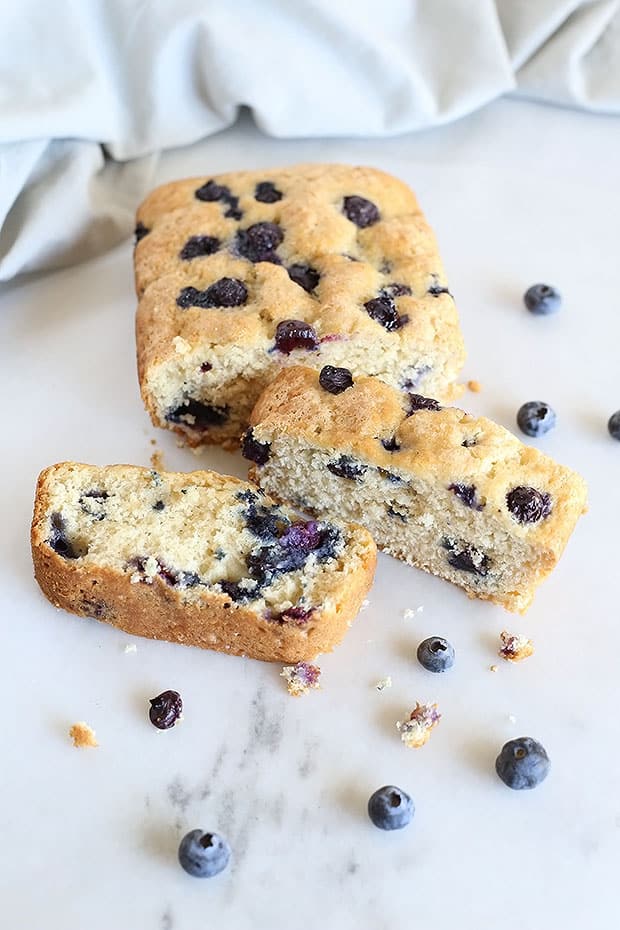 I had to.
You know these Amazing Blueberry Muffins?  Everyone is loving them SO much I thought I have to come up with a 2.0 version.
I also thought to myself WHY mess with something that already tastes so dang delicious?
Solution: make a different form of it!
A muffin tasting loaf/bread concoction!
And guess what? IT-IS-AMAZING! For realz.
And you NEED TO MAKE IT ASAP! 😉
PLUS I mean it has Blueberries, and in case you aren't already on the berry bandwagon maybe you need to check out this article from Thrive Cuisine it will definitely convince you to include berries into your diet on the daily because they are an antioxidant filled superfood! 😉
ok! on to talking about this tasty bread!
So it's the exact same ingredients but put in a loaf pan instead of muffins.  And it takes longer to bake, 37 minutes as opposed to the 23 minutes for the muffins.
It also tastes DIFFERENT! Yeah I know how could the same recipe tastes different? Well let me explain…
The muffins are super, moist and sweet just like this muffin loaf we have right here BUT the different is, when baked in a loaf pan it's a little more dense... but in a really really really good way. 😉 like I can't stop eating this EVER kind of way! 😉 if ya know what I mean!
It also has a much brown-er muffin kind of top, so if you are a muffin top love then you totally need this!
I will note this though: if you leave it out NOT COVERED the top will remain like a muffin top but if you put plastic wrap over it, it is soft the next morning and more like a loaf/bread… still amazing but if you like it to keep a harder top then don't cover it, if you choose to not cover it though, probably eat it quicker so it doesn't go stale!
I'm sure that will be no problem though, I mean seriously see if you can honestly restrain yourself at 1 or 2 slices HA!!! 😉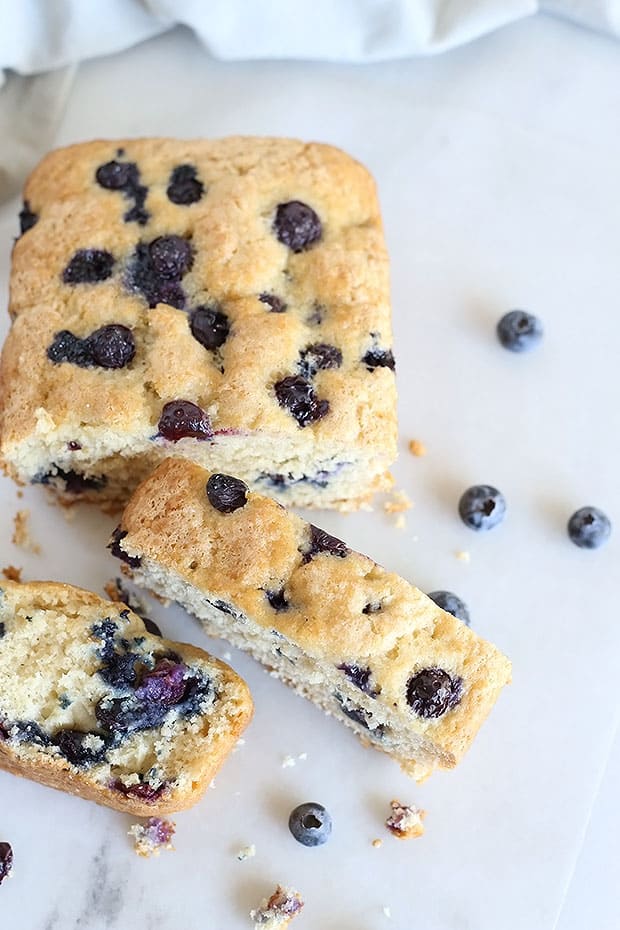 Ok I know you are going to love this new idea to make this sweet blueberry recipe, this Amazing Vegan Blueberry Loaf Bread is out of this world delicious!
If you make it take a pic and tag me on social media so I can see it! 😉
And don't forget to check out my Amazing Blueberry Muffins also!!!
I hope you give this a try and let me know what you think! let's keep in touch too on TwoRaspberries, Facebook, Twitter, and Pinterest! 
want to PIN this for later? click here
and don't forget to sign up for email updates (drop your email in the box below!) 
***********************************
**********************************
Print
Amazing Vegan Blueberry Loaf Bread
Soft, moist, and sweet! This Amazing Vegan Blueberry Loaf Bread is the BEST sweet treat. Just like a muffin but in the form of a loaf bread. Vegan.
Author: TwoRaspberries
Prep Time:

10 mins

Cook Time:

37 mins

Total Time:

47 mins

Yield:

6-9

Category:

Dessert/Muffin/Bread
 Dry Ingredients
 1½ cup all purpose unbleached flour
 2 teaspoon baking powder
 ½ teaspoon sea salt
Wet Ingredients
 ½ cup unsweetened vanilla almond milk
 ½ teaspoon apple cider vinegar
 ½ cup vegan cane sugar + more for topping
 3 oz unsweetened natural applesauce
 ¼ cup vegan butter melted (I used earth balance in the red tub)
 1 teaspoon vanilla
 ¾ cup blueberries (I used fresh) plus more for topping.
Instructions
Pre-heat the oven at 375 F
In a small bowl add your almond milk and apple cider vinegar and set aside.
In a large bowl add all your dry ingredients.
In a separate small bowl melt your butter, add melted butter and almond milk mixture to the dry ingredients and continue adding the rest of the vet ingredients applesauce and vanilla. MIX until everything in well combined. But try not to over mix or beat it!
LAST add blueberries and gently fold them in.
Spray a 9X5 loaf dish and pour the mixture in there, top with extra blueberries and sugar.
Place in the oven for 37 minutes.
makes 6-9 slices depending how thick you slice it!
Notes
Notes: Mine took 37 minutes but always give it a tooth pick check before removing from the oven. (Tooth pick check is sticking a tooth pick in a few center spot of the loaf and making sure nothing wet comes out besides the blueberry which could make the tooth pick purple/blue color)
Blueberry-Muffin-Bread sweet delicious-ness!!!
check out the muffins too!