Healthy Pumpkin Crumble Muffins ! These are Vegan and Gluten Free, healthy and easy!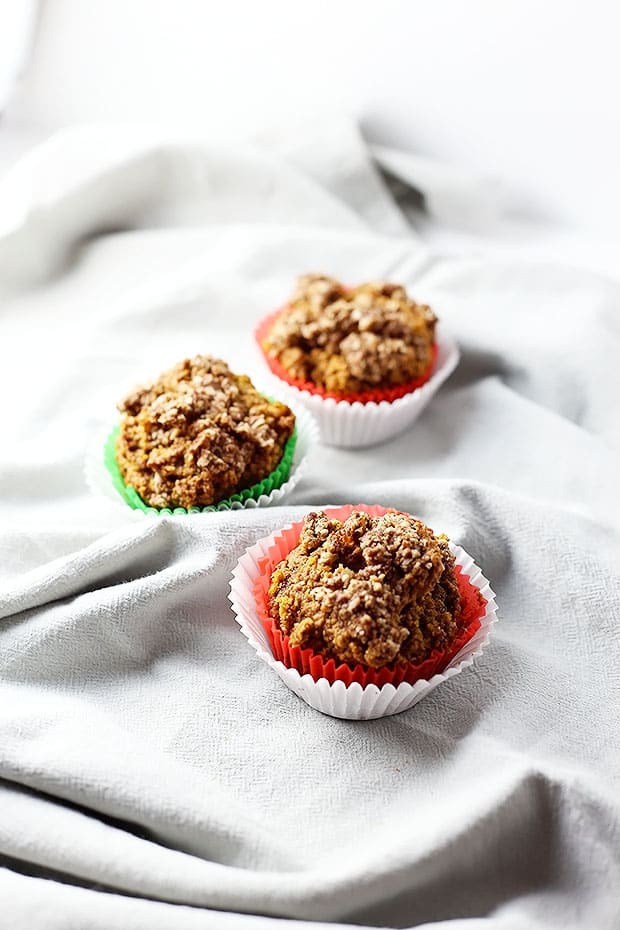 Omgeeee these muffins you guys... Seriously they are my favorite right now!
They are healthy too! Naturally sweetened with maple syrup and coconut sugar, and in my mind they are the best breakfast right now!!!
They have a crumble topping causeee crumble toppings just make ALL muffins even better! Am I right? 😉
It's not too late for a pumpkin recipe is it??? I mean it's still November! 😉
The muffin bottom is just sweet enough to have for breakfast but not so sweet you have a sugar crash from it.
The batter... Don't taste it before baking it, it might not make it in the oven! (Insert big grin on my face)
I mean...no eggs and perfectly safe to eat, in combination with tasting really YUM = dangerous!
but I'm not joking, I really did taste the batter (picture a little thought bubble above my head) this would taste sooo good in a bowl on the couch with a coffee or tea and a movie!  Just like eating a bowl of ice cream 😉 ... yeah that went through my head!
anyways... back to this Healthy Pumpkin Crumble Muffin it's:
Soft + Moist
Sweet + Crumbly on top
Great breakfast or after dinner dessert
Perfect with coffee or tea
Really easy to make
Naturally sweetened
Healthy
Totally tasty!
p.s. they totally beat my Pumpkin Pecan Spice Muffins from last year! they were amazing too but these are even better!!!
If you try these muffins make sure to take a pic and tag me on TwoRaspberries 😉
And don't forget to sign up for emails so you never miss anything!!!
Print
Healthy Pumpkin Crumble Muffins
Healthy Pumpkin Crumble Muffins Vegan+GF
Author: TwoRaspberries
Prep Time:

10 mins

Cook Time:

30 mins

Total Time:

40 mins

Yield:

8

1

x
Dry ingredients:

1 ½ cups

oat flour*

¾ cup

almond flour (I like Bob's Red Mill)

⅓ cup

coconut sugar

½ tsp

baking powder

1 tsp

baking soda
Pinch of sea salt

1 tsp

cinnamon

¾ tsp

all spice

¾ tsp

nutmeg
Wet ingredients :

3 tbsp

maple syrup

¼ cup

coconut oil* (I like organic Spectrum brand)

¾ cup

plain pumpkin purée

⅓ cup

unsweetened almond milk (I like SILK brand)
Crumble topping:

2 ½ tbsp

oat flour*

2 tbsp

coconut sugar

1 tbsp

coconut oil*

½ tbsp

maple syrup

¼ tsp

each: cinnamon, all spice, nutmeg
Instructions
Pre heat the oven at 360 and line a cupcake/muffin pan with liners (makes 8 muffins) I also put a splash of water (tiny bit) in the empty spots so it doesn't burn the pan.
First make your oat flour *see notes. Then add all the dry ingredients into a large mixing bowl and stir.
Add all your wet ingredients right into that same bowl and mix really well!
Fill your muffins full to the top, not over the top and not under just even with the top.
Make your crumble topping by mixing all the crumble topping in a small bowl and crumble some over the top of each muffin, the crumble is kind of wet but once it bakes it has a nice crisp to it!
Bake for 30 minutes and let cool for 15-20 minutes
Notes
Notes: * oat flour, I use old fashioned rolled oats and put them in a food processor and pulse until completely broken up and forms a flour consistency, I measure the FLOUR for the measure,net above not the oats! General rule of thumb is if it calls for 1 ½ cups oat flour you will want 1 ¾-2 cups rolled oats, once processed they don't measure the same!
* coconut oil, for this recipe you do not need to melt the oil but your do need to mix really well and make sure to batter doesn't have any chunks of coconut oil in it, melting of softening work also but I just used it firm straight from the jar!