this Healthy Pesto Pasta is Vegan and Gluten Free! healthy and super simple to make! topped with sauteed tomatoes and onions!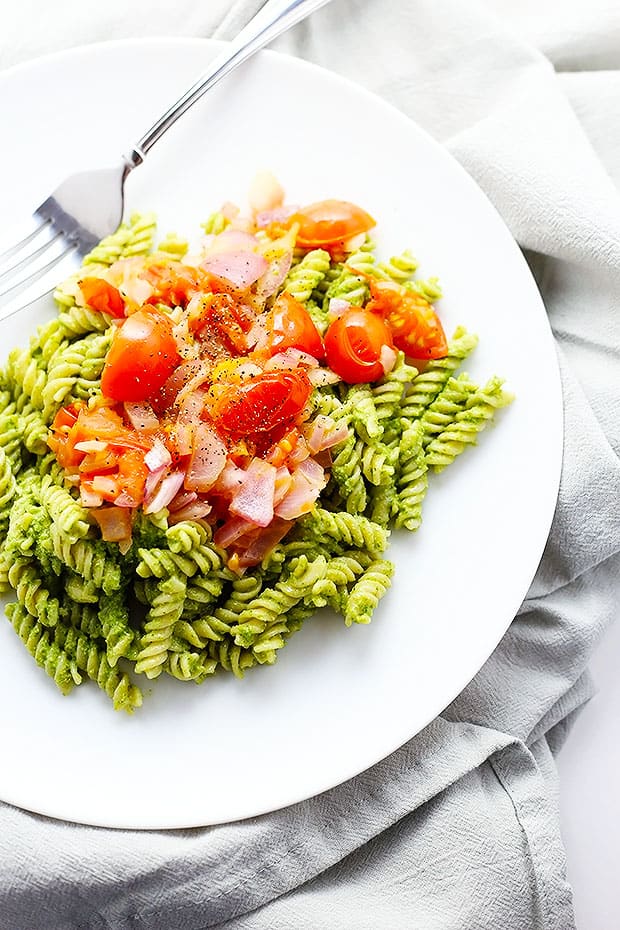 One week until Christmas Eve! Tell me what is your holiday? Do you celebrate Christmas? Hanukkah?  Something else?  And are you celebrating with close family or going to a relative's house, somewhere out of state?
We celebrate with my side of the family as well as Nicks Side of the family, so we celebrate twice!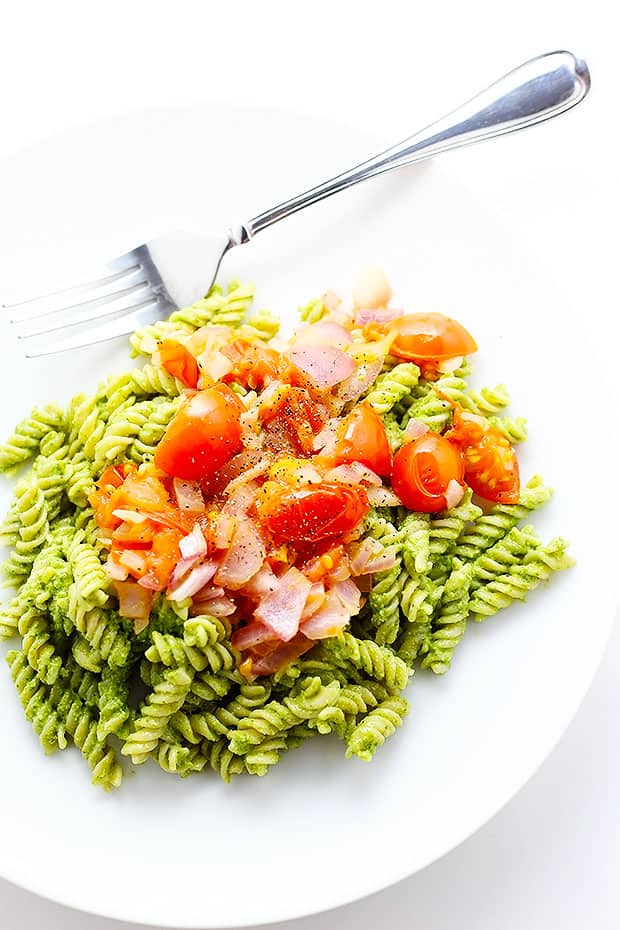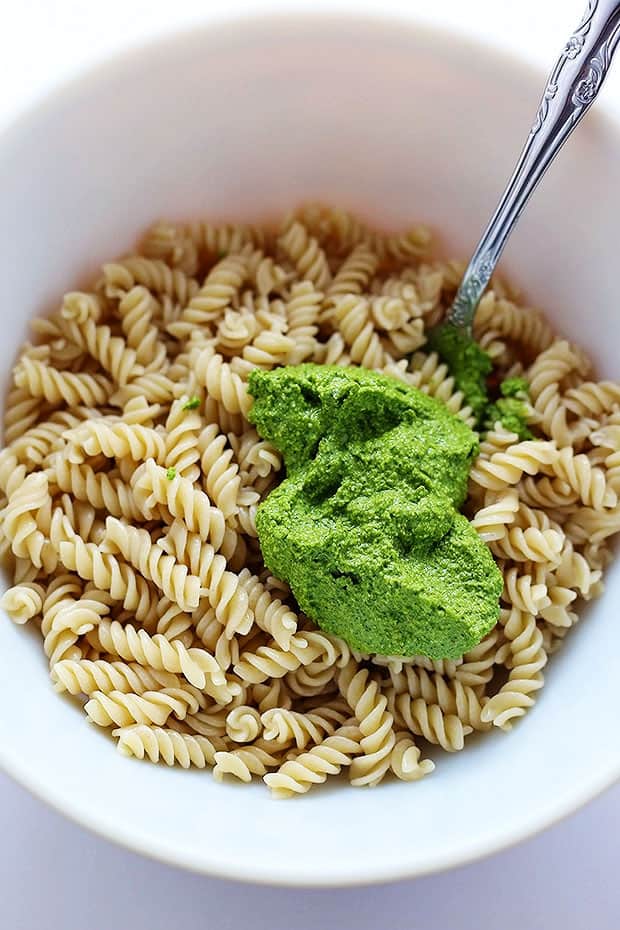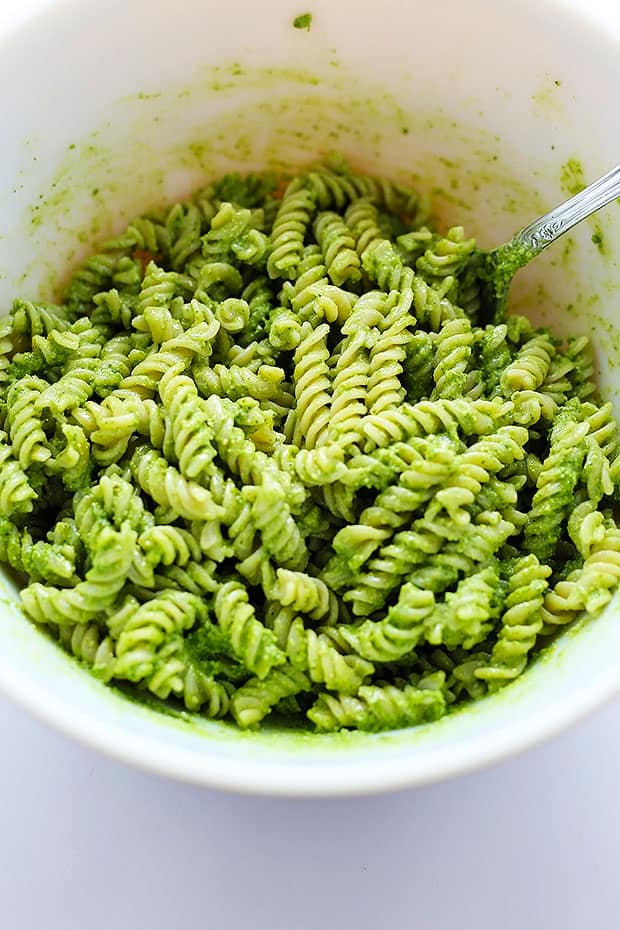 Okay, moving on…
Do you remember the beautiful green monster from a couple days ago? This Easy Spinach Walnut Pesto 😉
Remember I told you I was putting it on everything… well I wasn't joking!
This is one of the things I used the Pesto for, and it was perfect! For this Healthy Pesto Pasta,  I sautéed up some onions and tomatoes to top it with and it was full of flavor and so simple to throw together.
I love cherry tomatoes on anything (even plain) but when you sauté them with onions and put them over pasta it's magical.  I adore pasta I will eat it every-single-night if you don't force me to eat something else, and this pesto made it so much more interesting instead on plain pasta and the juicy-ness of the cherry tomatoes made everything all come together and have a party in my mouth!
I used GF pasta in the recipe but you can use any pasta that you would like a couple tablespoons of this Pesto and then cherry tomatoes and onions.
It's really that simple especially if you already made that pesto from Tuesday!
p.s. if you have trouble cooking GF pasta be sure to read the notes in the recipe 😉
I hope you give this a try and let me know what you think! 
let's keep in touch too on TwoRaspberries, Facebook, Twitter, and Pinterest! 
want to PIN this for later? click here
and don't forget to sign up for email updates (drop your email in the box below!) 
****************************
Print
Healthy Pesto Pasta
Healthy Pesto Pasta is Vegan and Gluten Free! healthy and super simple to make! topped with sauteed tomatoes and onions!
Author: TwoRaspberries
Prep Time:

5 mins

Cook Time:

15 mins

Total Time:

20 mins

Yield:

2

1

x
8 oz

. GF fusilli pasta (I used TruRoots brand)

3

-

4

tablespoon of this Easy Spinach Walnut Pesto
About

15

cherry tomatoes sliced

1

small purple onion chopped
Instructions
Cook pasta according to directions on you pasta bag
Slice tomatoes and chop onions and fry in a skillet (sprayed with non-stick spray) on medium heat salt/pepper to taste, cook for about 7-10 minutes
Pour pasta in a bowl, mix in pesto, top with sautéed tomatoes and onions.
serves 2 meals
Notes
Notes: with GF pasta when you drain the pasta you need to rinse it with cold water otherwise you end up with soggy slimy pasta!
                          products I recommend for this recipe: 
disclaimer: some links on this page may be affiliate links