your going to LOVE these Chocolate Covered Spider Web Pretzels !
they are super fun to make and they are the best snack ever!
So I don't think I have ever mentioned how much I love Chocolate Covered Pretzels! well they are one of my favorite snackeroos BUT since I decided to change from vegetarian to vegan I haven't found any store bought ones that are vegan (anyone know of a brand lemme know!)
anyways back to what I was saying, I love them but since I couldn't find any I decided I just had to make my own and since it's almost Halloween I thought I would add some spider webs to switch it up a bit!
let me tell you guys though, I'm not going to lie... YES it was SUPER EASY ... BUT it was totally a putzy thing to make so if you have kids... LET THEM HELP!
does that even make sense? super easy but putzy?... it does right? ...it's easy because there isn't very many ingredients, but it just takes a while so its putzy... yeah it makes sense! 😉 to me anyway...
I will say that they are definitely worth it once they are made though because they got the sweet + chocolaty + salty perfection combo goin on!
but like I said let the little helping hands have some fun too!
So for putting the orange on, I used plastic piping bags (sandwich bags work also)
and for the dipping, I used tooth picks to grab the pretzel out of the chocolate to avoid super messy fingers 😉
I hope you all try these and I know yours disappears as fast as mine did! 😉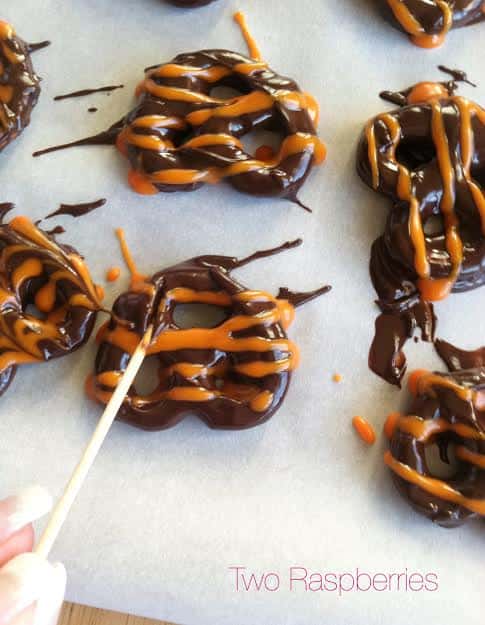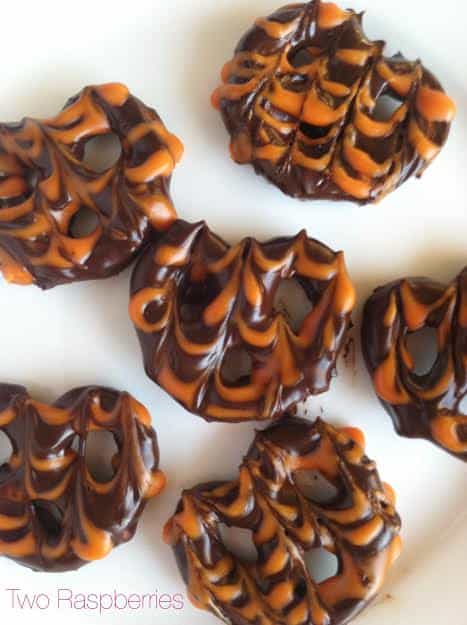 hope you all enjoy these yummy lil snacks!
don't forget to follow us on:
and sign up for our email updates (link in the sidebar)
Print
Chocolate Covered Spider Web Pretzels Vegan Gluten Free Soy Free
Chocolate Covered Spider Web Pretzels Vegan Gluten Free Soy Free
Author: Two Raspberries
Prep Time:

5 mins

Cook Time:

30 mins

Total Time:

35 mins
1 cup

vegan chocolate chips

2 tbsp

vegan butter

1 cups

confectioners (powdered) sugar

1 tbsp

vanilla almond milk
about

2 cups

GF pretzels
food coloring
Instructions
first line a baking sheet with parchment paper
first pour your confectioners (powdered) sugar in a bowl with the almond milk and mix, then add your food coloring to it, if you have orange color great if not i read the back of my package and it said 24 drops yellow to 4 drops red so you could also do that
pour that mixture into a piping bag OR sandwich bag (DO NOT CUT TIP UNTIL READY TO USE)
next heat you chocolate chips and butter up in a bowl in the microwave
dip your pretzels into the chocolate mixture and use a tooth pick to pull them out
place them on the lined baking sheet
once you are about ¼ down start drizzling your orange color on and making the spider webs by dragging a tooth pick through the lines (pictured above)
NOTE: you do not want to wait until the chocolate starts to harden because then when you drag the toothpick though the orange lines it will make big dents in the chocolate and won't look much like "webs"
continue process until all the pretzels and chocolate are used up!