This Healthy Cucumber Noodle Blueberry Salad is fresh, light and has a sweet and savory maple and mustard dressing!  Vegan and GF.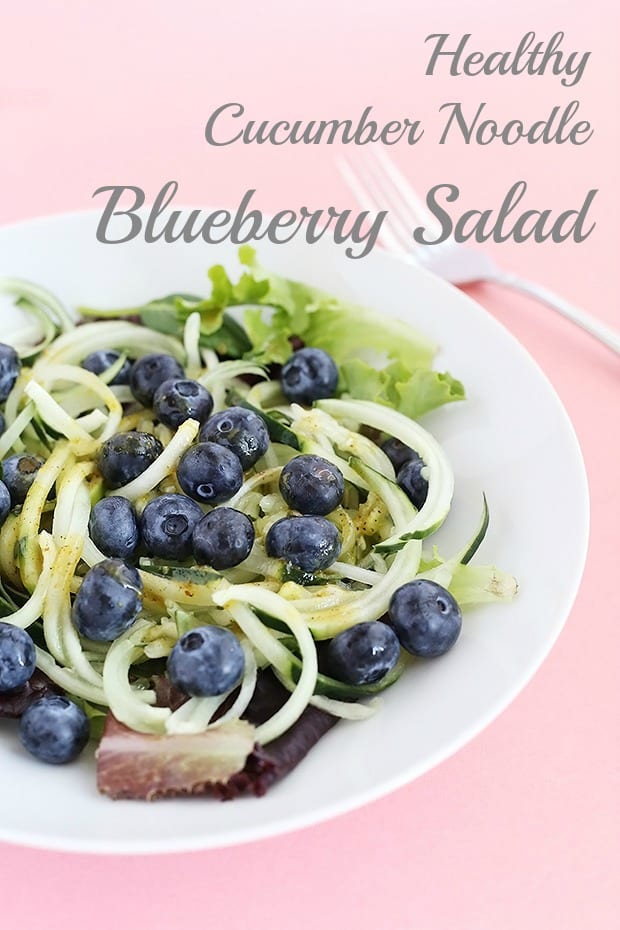 "don't underestimate the power of your mind... it can do amazing things for you if you allow it... decide to allow only positive energy to come into you space today... any negativity just release and send it on it's way" 
Something about January just has to have blueberries, I don't know why but everyone loves them in January! Including myself.  😉
ok! third recipe for this month that I am sharing with ya' straight from my eBook 😉
Simple Clean Vegan Lifestyle! In case you missed the last two posts,  you're probably asking why would I buy the book then? well quite simply, it's just more convenient to have everything in one place for those who actually like to use the recipes on a regular basis! So if you want more simply healthy meal ideas be sure to check out the eBook, if not I hope you enjoy this recipe anyways!
ok, so...I think you are going to love how easy today's "recipe" is.  The reason I put that in quotes is because I'm not sure if you can even call this a recipe it's so darn simple! But obviously if you have been around here for a while you already know you won't find very many complex recipes on here 😉 more like fun healthy ideas!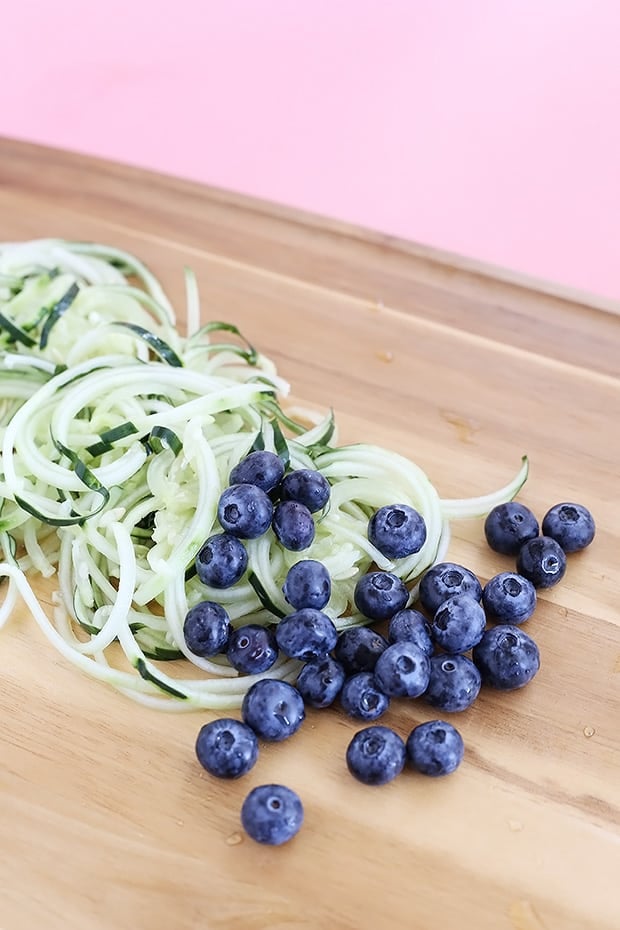 Anyways, I used my Inspiralizer to make these cucumber noodles and nope I'm not paid to say that I'm just telling you what brand I use cause I luv ya! 😉   You might already remember me mentioning that in my other cucumber noodle bowl recipe (the one with cucumber and strawberry) if you haven't seen that one be sure to check it out!
The thing that makes this one different is the blueberries obviously and the addition of lettuce.  I find that adding a bed of lettuce at the bottom is a good way to sneak in some additional greens without feeling like you are eating a big ol' salad!
One quick TIP I want to add to this Healthy Cucumber Noodle Blueberry Salad post is: don't eat raw foods like this or any others, after eating cooked foods in the same day (with the exception of the lettuce).  The only reason I add this note is because a lot of people try to eat raw foods after eating cooked foods and the two of them just don't digest very well together, you can obviously do more research on food combing if you are interested but I'm just telling you the very very basic understanding! Cause I don't want any of you to get upset stomachs!
But of course some people who don't have such sensitive stomachs don't follow this rule of thumb and do and they are totally fine! This is just a tip for those who notice this happening (stomach discomfort) when they try to eat healthier/raw foods! (some fruits and veggies can be picky about what they are eaten with) 😉 That's why I like to recommend this as a lunch if you are someone who drinks a fruity smoothie every morning, this would be perfect! 😉
Another thing, if you feel like adding other berries to this go for it!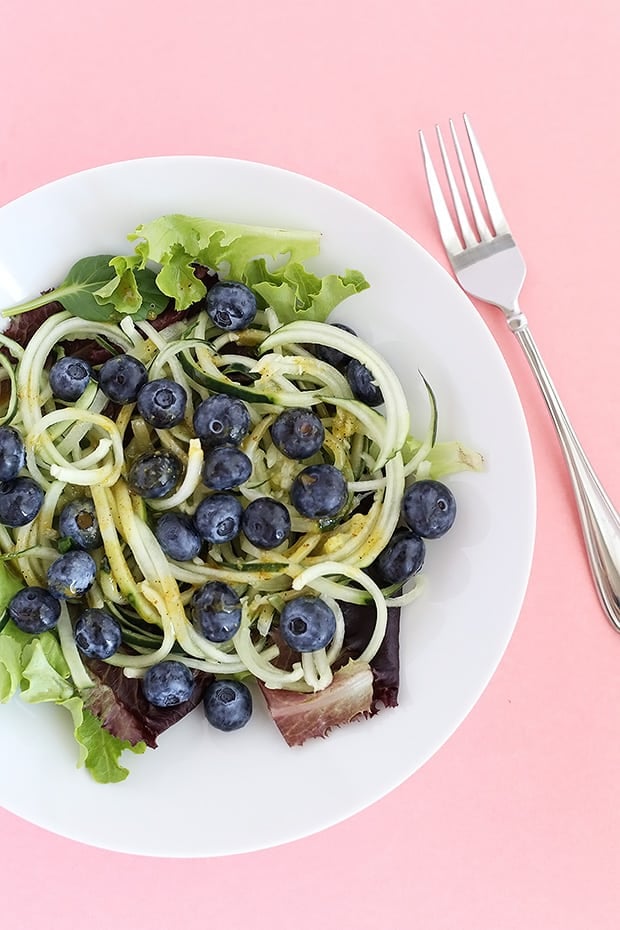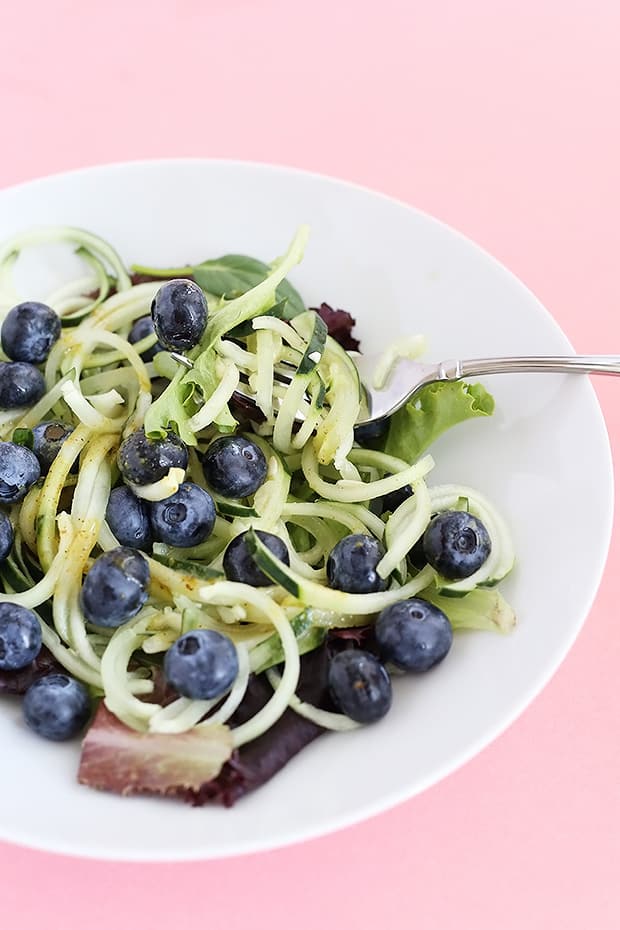 Moving on… this Healthy Cucumber Noodle Blueberry Salad is:
Easy peazy!
HEALTHY!
Packed full of nutrients, vitamins and minerals!
The dressing adds a sweet + savory flavor.
Detoxing and cleansing.
Low calorie, low fat.
Ok! I hope you try this and be sure to leave a comment and rating below if you do,  I really appreciate it! Also snap a pic and tag me on social media if you do make it, I love seeing it! 
Healthy + Refreshing + Tasty! 
Print
Healthy Cucumber Noodle Blueberry Salad
This Healthy Cucumber Noodle Blueberry Salad is fresh, light and has a sweet and savory maple and mustard dressing! Vegan and GF
Author: TwoRaspberries
Prep Time:

10 mins

Total Time:

10 mins

Yield:

1

-2

1

x
Category:

Lunch/Dinner
1

organic cucumber

1 cup

fresh organic blueberries

2

-

3

handfuls lettuce (I used spring mix)
DRESSING:

1 TBSP

pure maple syrup

1 TBSP

spicy brown mustard
Pinch black pepper
Instructions
First start by spiralizing your cucumber, I use anInspiralizer.
Next in a bowl lay a bed of lettuce, add the spiralized noodles on top. (before putting them on top, if they are really long feel free to use a knife and slice through the center of the pile to shorted them)
Then wash and add the blueberries.
Mix up the dressing in a small bowl and drizzle over the top.
Serves 1-2