This Healthy Spiralized Cucumber Strawberry Noodle Salad is super quick and easy to make, perfect lunch, oil free dressing and no cooking required! Vegan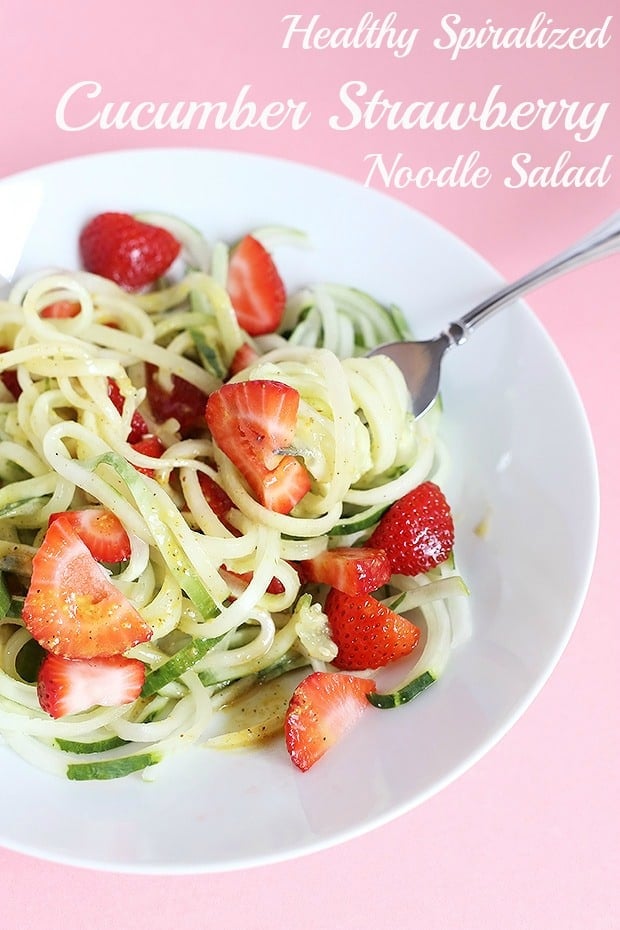 You guys! My newest obsession is these cucumber noodles!!!
So I got an inspiralizer a while ago and I have been a little too lazy to use it… I have been missing out big time!
This cucumber strawberry noodle salad is amazing. It's cold, fresh, crisp and the dressing is sweet and savory!
This Healthy Spiralized Cucumber Strawberry Noodle Salad is oil free low fat and you can eat a huge bowl of it without feeling weighed down at all!
Side note/FUN FACT: this basically a RAW recipe, I don't think the dressing is considered raw but the noodles are, they are not cooked this is a cucumber spiralized into "cucumber noodles". 
The reason I want you to know this is because, a lot of times people don't feel very great after eating raw foods.  After doing some re-search I came to find out that a lot of times, the cause is eating cooked foods too close to the time of eating raw foods… raw foods like cucumber and strawberry digest pretty fast so if you have eaten a cooked meal that hasn't digested fully it will collide with the raw food and cause upset stomach and bloating… yeah I've been doing some re-search on food combing lately and it's been quite eye opening to say the least.
Basically what I'm sayin' is, don't pair this (or any fast digesting foods aka: fruit) with cooked foods, wait like 3-4 hours after a cooked meal or at least 1 hour after eating this to eat anything cooked for best digestion.
Of course if it never bothers you or your digestion then just ignore what I said above, I'm no doctor or expert it's just some info I learned and it has made me feel much better paying attention to when I eat certain types of food! 😉
Alright! Let's get back to talking about this Healthy Spiralized Cucumber Strawberry Noodle Salad! the dressing on here is a current FAVORITE! it's maple syrup (pure not the added sugar crap) mixed with spicy brown mustard (I get mine from Trader Joe's) a squeeze of lemon juice and a pinch of black pepper! It give this fresh "cucumber noodle" salad a sweet and savory flavor that I LOVE and this dressing is one of Nick's current favorite as well! 😉
As for the cucumber, I decided to leave the skin on because it provides a lot of additional vitamins and minerals and I was able to find an organic one, but if you can't find one that is organic then you can totally peel the skin off.
When you go to specialize the cucumber (or any fruit/veggie you spiralize) I find that's its much easier if you cut it in half and spiralize it in two separate pieces. Then I like to take a knife and cut right though the center of the "zoodle" pile to make the noodles shorter otherwise they are like never ending! HA!
This Healthy Spiralized Cucumber Strawberry Noodle Salad, is:
Healthy
Oil free
Salt free
Low fat
Tastes crisp and fresh
Sweet and savory
EASY
Texture is JUST like noodles! 😉
I really hope you give this a try and let me know what you think! Leave me a comment and rating below, thanks bunches 😉 also take a pic and tag me on social media I would love to see it!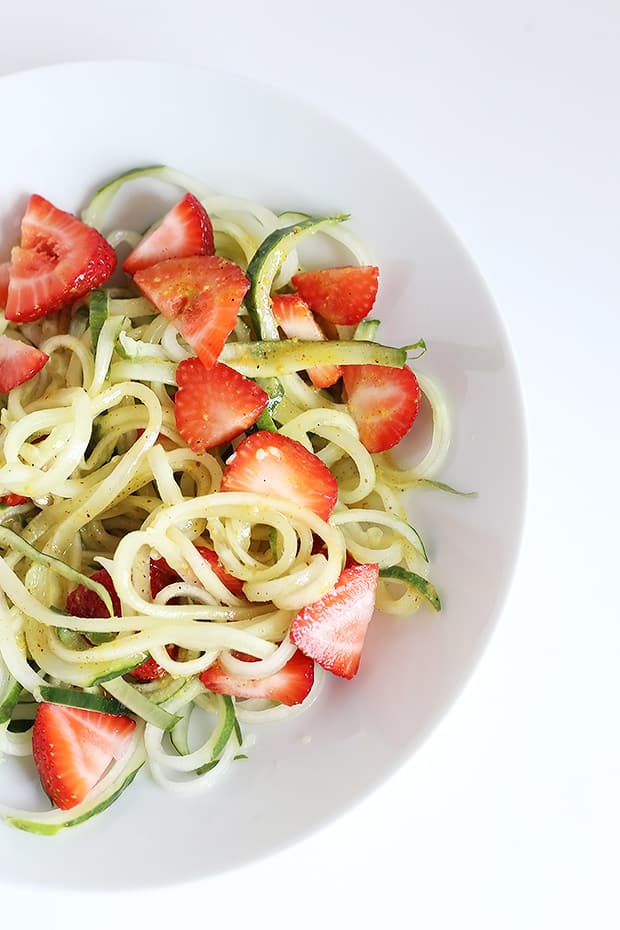 I hope you give this a try and let me know what you think!
Leave a comment and a rating if you do try this!
Also take a pic and tag us on social media!
 let's keep in touch too on TwoRaspberries, Facebook, Twitter, and Pinterest! 
want to PIN this for later? click here
and don't forget to sign up for email updates (drop your email in the box below!) 
*********************************
**********************************
Print
Healthy Spiralized Cucumber Strawberry Noodle Salad
Healthy Spiralized Cucumber Strawberry Noodle Salad. Oil free, low fat, no cooking required!
Author: TwoRaspberries
Prep Time:

10 mins

Total Time:

10 mins

Yield:

1

Category:

Lunch/Dinner/raw based meal
- 1 cucumber spiralized
- 6-9 fresh strawberries sliced
DRESSING:
- 1 tablespoon pure maple syrup
- 1 tablespoon Spicy Brown Mustard
- 1 tablespoon fresh squeezed lemon juice
- Pinch of black pepper
Instructions
Wash and Spiralize the cucumber, (I use theInspiralized inspiralizer) wash and slice the strawberries. Place in a bowl.
Mix up the dressing in a small bowl and drizzle it over the "zoodles" mix it up and enjoy!
Notes
once you have a pile of cucumber noodles take a knife and chop though the center of your "noodle" pile so they are not as long!
healthy + fresh + crisp + sweet! 😉