This Clean Protein Quinoa Bowl is packed with healthy protein and ingredients like carrots, green beans, onions and sweet almond maple dressing! Vegan - GF
Gettin' fresh here! Clean complete protein quinoa meets some steamed carrots and green beans (one of my favorites!) 😉 and all that gets a drizzle of some sweet (or spicy if you choose) almond drizz-ly sauce!
YASSS this is my kind of clean powder packed lunch!
You are definitely going to love this Clean Protein Quinoa Bowl for the flavor and the ease of putting it all together. Let's get right into talking about it!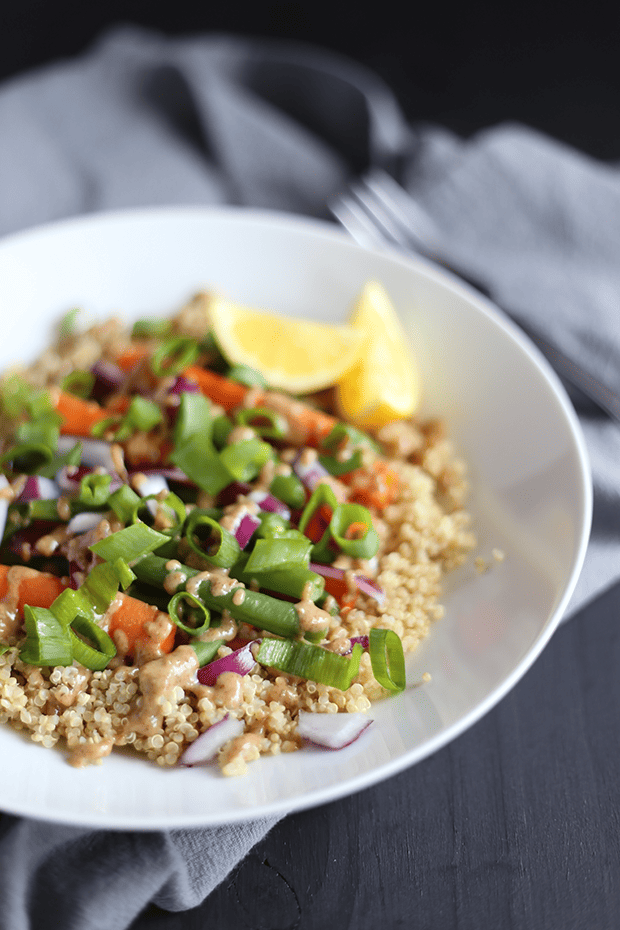 Quinoa- cook it plain in water like I did or cook it in half water and half low sodium veggie broth if you desire more flavor. I alway say to follow the directions on your quinoa package for cooking it, but I would like to share that I generally put a tiny bit less water than it asks for because I find that what it says for liquid is a little to soggy for my preference, so if you notice your quinoa is a little to soggy, add a tiny bit less water next time.
Carrots and green beans- if you have a steamer pot contraption thing go ahead and steam the veggies in that but if you're like me and you don't have room for all those kitchen appliances than the little trick (also listed in the recipe) is to wait until the quinoa is mostly done cooking and then add the veggies on top keeping the lid on and once the liquid is fully cooked out you remove it from the heat but leave the lid on the pot and let it continue to keep steaming until the veggies are soft and delish!
Dressing- rich and creamy almond butter meets a tiny hint of sweet maple syrup, I love this combo for on top of veggies and grains like this because quinoa already has a slight nutty flavor and adding a sweet plus rich nutty flavor is just a really nice combo!

I think you will really love this Clean Protein Quinoa Bowl because it's:
Healthy
Easy
Protein packed from quinoa and almond butter
Healthy fats from the almond butter dressing
Vitamin + mineral packed from steamed veggies carrots and green beans
Fresh
Filling
If you make this Clean Protein Quinoa Bowl let me know in the comments below what you thought and give it a rating! also snap a pic and tag me on social media!
Print
Clean Protein Quinoa Bowl
This Clean Protein Quinoa Bowl is packed with healthy protein and ingredients like carrots, green beans, onions and sweet almond maple dressing! Vegan - GF
Author: TwoRaspberries
Prep Time:

10 mins

Cook Time:

20 mins

Total Time:

30 mins

Yield:

2

1

x
Category:

Quinoa/Lunch/Dinner
½ cup

dry quinoa rinsed well and drained
Green beans (I used about 1 ½ cups worth but adjust to your preference)
Carrots sliced (I used about 3 large full carrots, but adjust to your preference)

¼

of a purple onion
Scallions/green onions
Lemond weges for topping
DRESSING:

1 ½ TBSP

natural runny almond butter

½ tsp

pure maple syrup
water to thin (about 2 TBSP)
Optional: ½ teaspoon of hot sauce for a spicy version)
Instructions
First rinse and drain quinoa, start cooking according to instructions on package.
Wash and chop beans, carrots and chop onion.
STEAMING the carrots and green beans: if you have a steamer pot great use that but if not I waited until lost of the water wash absorbed in my quinoa pot (about 10-12 minutes) and then I quickly removed the lid, added my veggies on top and placed the lid back on for the remainder of the quinoa cooking, then I removed from heat once liquid wash all absorbed and left the lid on for about another 5-10 minutes.
Prepare dressing by mixing everything in a small bowl.
Add quinoa + veggie mixture to a bowl/plate and then top with onions, scallions, lemon wedges and drizzle the dressing over the top!
serves 2