Easy Healthy Curry Quinoa and Veggies! curry spices give it heat and quinoa brings a nice nutty flavor, a side of veggies compliment the hot curry flavors. Vegan and Gluten Free.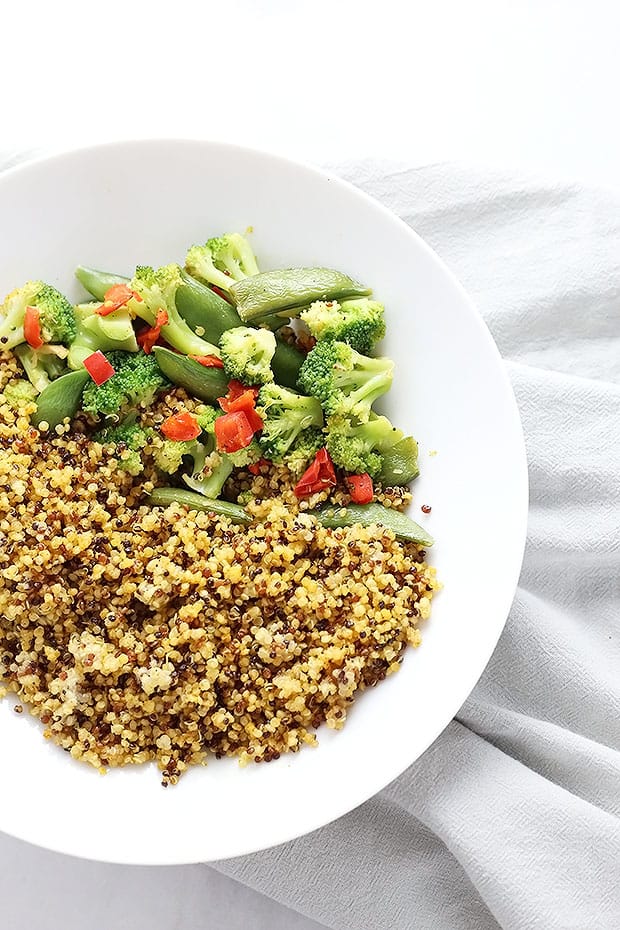 I have a curry obsession lately! Not that long ago I posted a curry rice bowl so naturally I had to see if it would taste good with quinoa! You now I love my quinoa, see example A (breakfast quinoa) B (detox quinoa) and C (superfood quinoa)! check out the bazillion other ones here! 😉
Anyways, guess what? It tastes amazing! I was worried it wouldn't taste as good as rice but… I really don't know which I like better.  They are SO different, obviously the texture is really different rice is much softer and quinoa is moreeee… well like a grain. Even though I used the same spices, the flavors were different! I think that the quinoa actually tasted more spicy/hot! So if you love heat, go with the quinoa. 😉
A few things to note:
Just like I mentioned in the curry rice cold or at least cooled works best, so place the quinoa in the fridge to cool down before adding it to the skillet pan with the spices.  Cold works best because when it's still hot, it tends to get a little too soft in texture and when you cool it down, for some reason it holds its texture better… whatever works right!
Another thing, I used a ½ teaspoon of each of the spices, if you don't love a lot of heat start with ¼ teaspoon first! You can always add more but you can't take it back out once it has been added so I do encourage you to start with smaller portions and add more to your liking.  What I have listed is what I find tastes best for me, so use it as a guide! 😉
For the veggies, I chose broccoli, red pepper and snap peas but if you don't like those, you can substitute any of your favorite veggies in here!
This is good to keep in the fridge for 2-3 days if you want to have it for a couple lunches!
ok, that's it, I hope you try this Easy Healthy Curry Quinoa and Veggies!!! Let me know if you do! It's super helpful if you leave a comment and a rating below! 😉 also snap a pic and tag me on social media!
And don't forget to check out the rice curry!!! 😉
I hope you give this a try and let me know what you think! let's keep in touch too on TwoRaspberries, Facebook, Twitter, and Pinterest! 
want to PIN this for later? click here
and don't forget to sign up for email updates (drop your email in the box below!) 
**************************************
*************************************
Print
Easy Healthy Curry Quinoa with Veggies
This Easy Healthy Curry Quinoa and Veggies is quick to make, curry spices give it heat and quinoa brings a nice nutty flavor, a side of veggies compliment the hot curry flavors perfectly. Great for lunch or dinner! Vegan and Gluten Free.
3 cups

tri colored cooked + cooled quinoa (about

1 ¼

-

1 ½

cups dry)

2

-

3

cups mixed veggies (I used broccoli, red pepper and sugar snap peas)

2

-

3

tablespoon olive oil

½ tsp

each of the following powdered spices:
Curry
Turmeric
Garlic
Paprika
Cayenne
Instructions
Cook quinoa according to directions on your package.
Once quinoa is cooked place it in the fridge while your prepare your veggies.
Chop veggies and place them in a sauté skillet sprayed with non-stick spray, time will vary depending if you use fresh or frozen vegetable, frozen will take longer about 15 minutes, fresh will take less time about 7 minutes on medium heat, can sprinkle a little pepper over vegetables.
Once veggies are cooked:
Option 1:
Pour your cooled quinoa over the veggies and add olive oil and spices, let cook about 5 minutes until quinoa is warmed back up and a curry aroma is filling the room.
Option 2:
Remove veggies from skillet (place on serving plates)
Add quinoa, olive oil and spices to the skillet and cook on medium heat until warm (about 5 minutes) serve on plate next to mixed veggies!
Makes 3 large servings or 3-4 smaller servings
SPICY quinoa for the win!
you might also love these!!!