Curry Mushroom Broccoli Pasta is SUPER quick and easy to make, and really flavorful! It's vegan and gluten free plus it only takes about 30 minutes to make!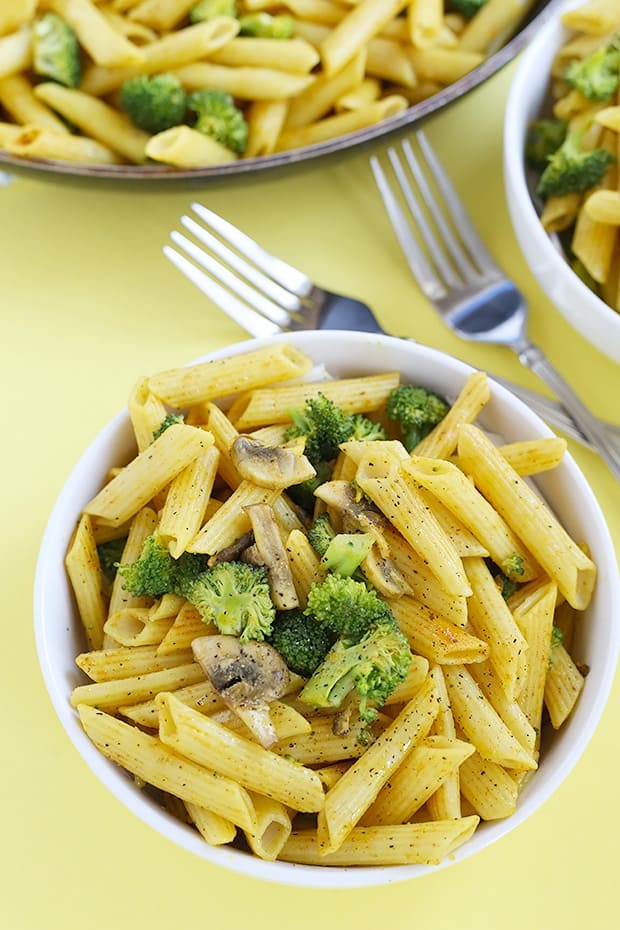 I can't believe I haven't tried curry flavored pasta yet?!?!?! Where have I been? Where have you been? Have you tried it yet? Am I last the last person in the world who hasn't tried it yet???
I think you are really going to love how easy this is and packed full of flavor!!!
Ok, so yeah I have seen a lot of chickpea curry rice things but I have not seen or tried a pasta one yet! Also usually the vegan curry dishes I see are full of canned coconut milk (the thick heavy stuff) yeahhh I'm sure it tastes good but for me personally I think I would be sick if I ate that amount of coconut cream! Do you agree?
So I guess you could say this curry pasta is lightened up a bit? 😉
It's super simple just like my curry RICE, curry QUINOA, curry BURGERS , curry BURGER SALAD and curry POTATOES! … man! I didn't realize how many times I had done curry! do I have a problem? … I don't think so because it just tastes YUM right?!
I mean when I find a new thing I like then I go crazy and want to try it a million ways! Anyone else like that?
So basically, you cook some pasta, sautee up some broccoli and mushrooms and then combine it all together with a little olive oil and spices! It's THAT EASY!!!
It only takes about 30 minutes as long as you utilize all the time like when waiting for the water to boil, instead of sitting on your booty… don't worry you're not the only one  😉 (totally guilty!) …get up and chop those veggies so they can cook while the pasta is cooking!
Also I know I always say this with my food recipes but the spices listed are just a guideline of what I used, if you want more heat then add more spices there's no rules in the kitchen, it's your food after all! 😉  I feel like this is also obvious but if you don't like a lot of spice then add less! LOL
Oh! And… Turmeric! Don't wear white or be careful if you are, it will stain your clothes and your nails so be sure to also use a spoon to stir it up!  I don't tell you this to scare you, I tell you because we're friends and I don't want you to ruin you brand new white top! K?
A few more things to help describe this Curry Mushroom Broccoli Pasta:
Spicy
Flavorful
Fast and easy (like about 30 minutes!)
Perfect for lunch or dinner!
De-lish re-heated the next day! (or if you're like me, yummy cold the next day too HA!) 😉
Give it a try- snap a pic- tag me on social media- leave a comment and a rating I SUPER appreciate it!
Thank you my beautiful internet friends! 😉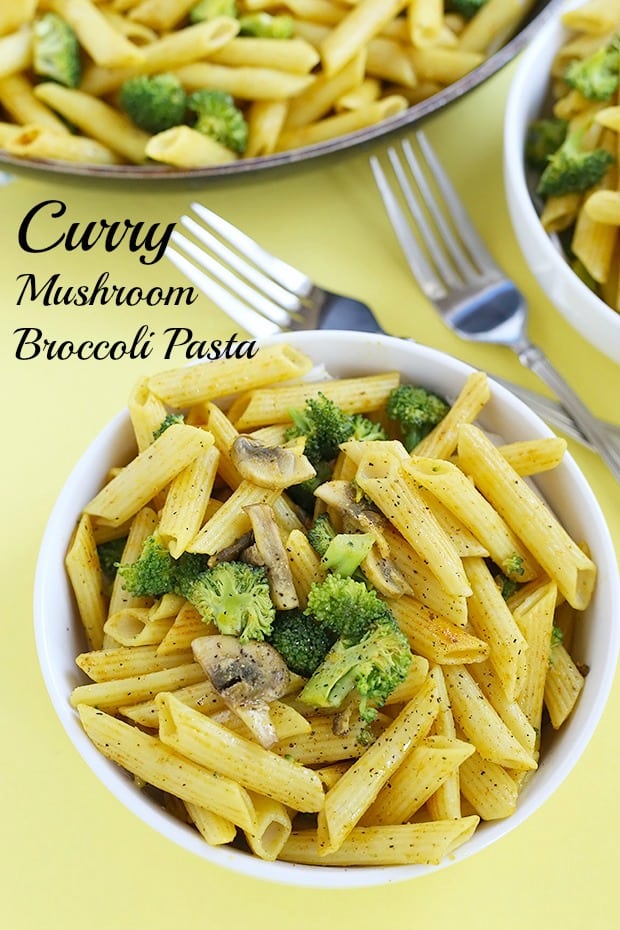 Print
Curry Mushroom Broccoli Pasta
Curry Mushroom Broccoli Pasta
Author: TwoRaspberries
Prep Time:

10 mins

Cook Time:

20 mins

Total Time:

30 mins

Yield:

3

-4

1

x
Category:

pasta/dinner/lunch
8 oz

. penne pasta

1

-

2

tablespoon olive oil

2

-

3

cups broccoli chopped small

1 ½ cups

chopped mushrooms
SPICE powders:

½ tsp

turmeric

½ tsp

curry

¼ tsp

garlic or onion

⅛ tsp

paprika

⅛

cayenne
Salt and pepper to taste
Instructions
Bring a pot of water to a boil, while waiting begin washing and chopping the broccoli and mushrooms.
Add the broccoli and mushrooms to a large stove top skillet but do not turn the heat on yet.
Once the water is boiling add the pasta and cook according to directions on your box.
Once the pasta has been cooking for about 2 minutes then you can turn the heat on medium for the broccoli and mushrooms for about 5 minutes until they are soft to your liking.
When the pasta is done, drain the pasta and add 1 tablespoon olive oil to it, and add it to the skillet with the veggies, turn the heat off! You don't want to continue cooking the pasta.
In a small bowl add the spices and stir them up, sprinkle them over the pasta and veggies and stir until everything is coated, you can add 1 more tbsp. of olive oil if it is too dry.
The dish should still be warm, if it's not then turn the heat back on for a couple minutes just to re-heat it but don't heat too long or the pasta will continue to cook!
Serves 3-4
Notes
if you want more heat feel free to increase the seasoning to taste, this is what I used and liked but you can adjust.
Be careful if you are wearing white because turmeric will stain your clothing!
With the spices, they can also stain your nails so try to just use a spoon to mix the spices and also stir it into the pasta.
spicy and flavorful!