These Easy Vegan Quinoa Sloppy Joes are flavorful and spicy, messy and delicious, healthy and easy, made from quinoa and completely vegan and gluten free!
YES quinoa in your sloppy joe… thank me later! 😉 😉 😉
You are going to LOVE how much this tastes like a "real" (if that's what you want to call it)… sloppy joe!
These Easy Vegan Quinoa Sloppy Joes take less than an to make and even faster if you prep the quiona in advance, then you are looking at like 20-30 minutes or less! SUPA EASY! You won't believe how simple!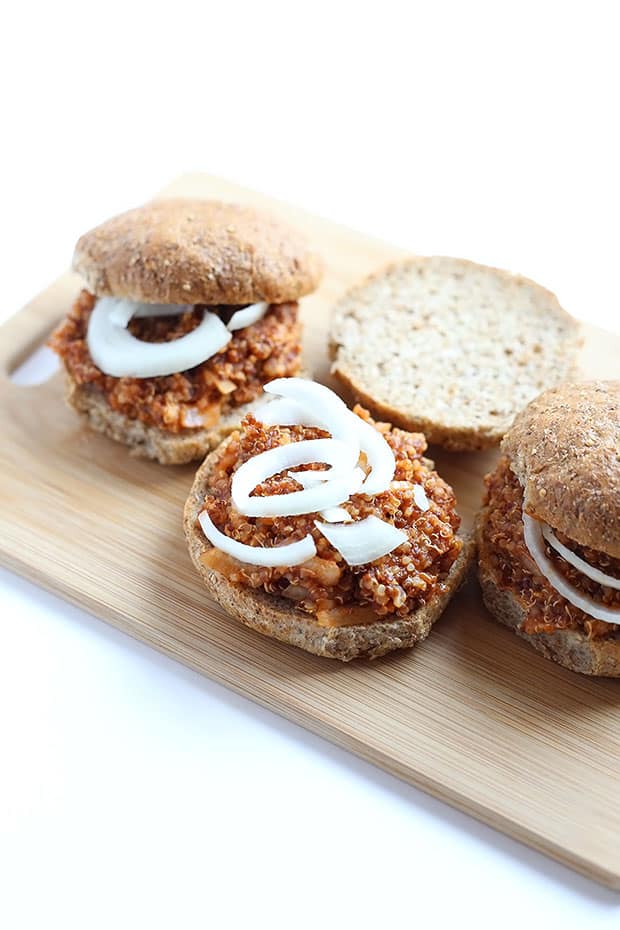 So have you ever tried to use the fake vegan meat for your sloppy joes? And you feel just gross after because like really? What's in that stuff… yeah it tasted like a sloppy joe but if you are like me, you probably feel like you just ate fast food after eating it! HA!
So today we are using Quinoa as our "meat" and you will not even miss a thing!
If you want this to be super simple, prepare the quinoa the night before (or even 2 nights before) so that it is ready to go!
The breakdown goes like this:
Prep the quinoa plain…
Get a Skillet, add tomato sauce, onion, seasoning and a tiny bit olive oil… (peppers and garlic if desired) let it come to a simmer, add the cooked quinoa and let it get warm and you are DONE!
Could it be any more simple?
it's messy, it's sloppy...it's just like it should be! 😉
p.s. the recipe calls for southwest chipotle seasoning, the brand I use is Market Pantry Salt Free Southwest Chipotle (I think that is Target's brand...? correct me if I'm wrong?)  it really really reallyyyyy needs that stuff because it gives a nice smoky sloppy joe flavor!  😉 if you can't find the same brand use something similar.
For the buns use whatever you like, I used sprouted grain buns but use your favorite!
Even a GF slice of bread would be amazing!
A few more things about these epic Easy Vegan Quinoa Sloppy Joes:
they're sloppy and messy but in the perfect kind of way!
they're smokey and spicy flavored!
super easy, and only takes like 30 minutes.
healthy and a complete protein from using the quinoa!
great for a summer weekend dinner (or any dinner night)
The video for these shows you exactly how simple it really is to make these sloppy joe's! I hope you like it and if you hope over to YouTube and subscribe I really appreciate it!  Vegan doesn't mean complicated or taste-less! These Sloppy Joes are amazing! 😉

K, that's it! I reallyyyy hope you try these and let me know what you think! Either leave me a comment or snap a pic and tag me on social media!!!
I hope you give this a try and let me know what you think! let's keep in touch too on TwoRaspberries, Facebook, Twitter, and Pinterest! 
want to PIN this for later? click here
and don't forget to sign up for email updates (drop your email in the box below!) 
**************************************
***********************************
Print
Easy Vegan Quinoa Sloppy Joes
Easy Vegan Quinoa Sloppy Joes
Author: TwoRaspberies
Prep Time:

20 mins

Cook Time:

15 mins

Total Time:

35 mins

Yield:

4-6

Category:

Sloppy Joes
- 1 cup dry quinoa (about 3 cups after cooked)
- 1 15 oz. can of low sodium or no salt tomato sauce
- ½ a small white onion chopped small
- 1 teaspoon chili powder
- ½ teaspoon cumin powder
- 1 ½ teaspoon southwest chipotle seasoning
- ½ teaspoon onion powder
- 1 tablespoon olive oil
- Optional: minced garlic and chopped peppers or jalapeno's
Instructions
First cook quinoa in advance according to instructions on your package, mine is 1 cup dry to 2 cups water (I usually use a little less liquid than what it calls for) I usually prep this the night before and store it in the fridge so it's all ready to go!
In a skillet add the tomato sauce, chopped onion and all the seasonings and olive oil. (add the minced garlic and chopped peppers if you choose to) let cook on medium heat until it start to bubble slightly (about 5 minutes)
Then add the cooked quinoa and mix well, just cook until hot which is about 5 more minutes and then serve on whatever kind of buns you would like!
Optional: top with onion, avocado, vegan cheese anything!
Makes about 6 burgers (4 if you like to over fill the buns) also depends what sized buns you use!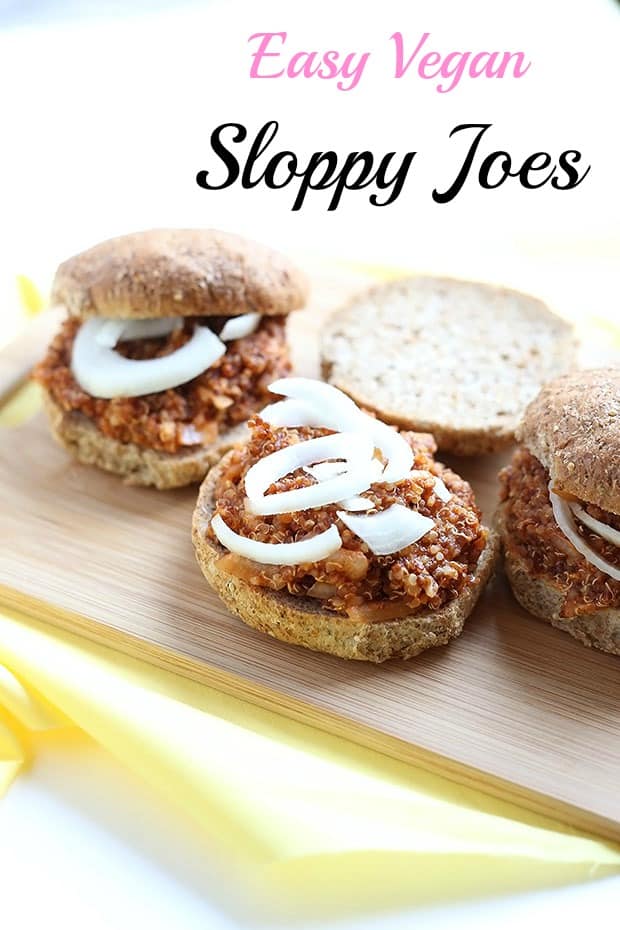 messy and deeelicious!