These 3 Ingredient No Bake Vegan Brownies are quick and easy to make! vegan, gluten free and refined sugar free! great snack or dessert!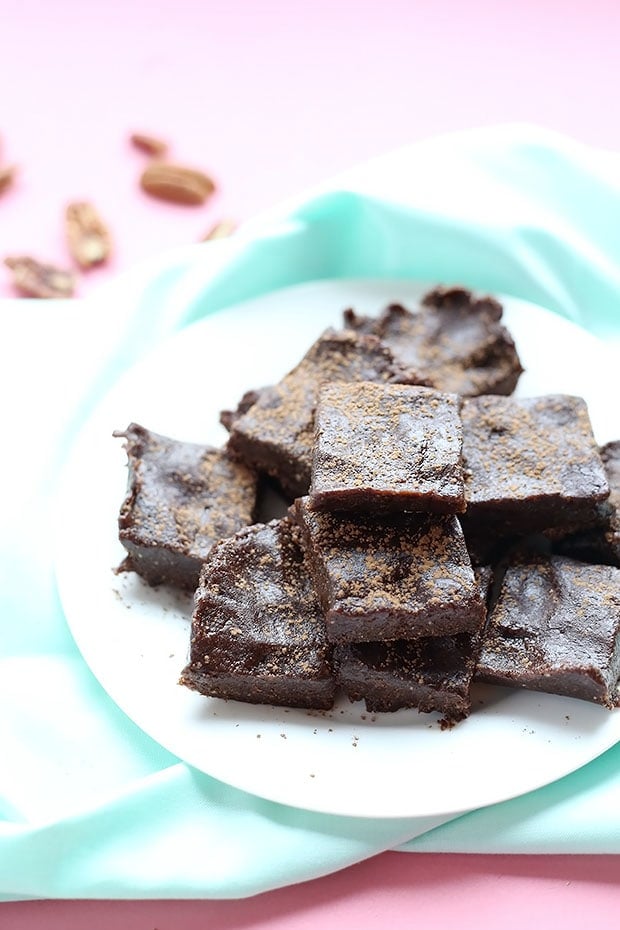 Chewy, chocolaty and only 3 ingredients!
Nothing is better than a HEALTHY but still amazing tasting treat am I right?! 😉
I hope you said yes because I think you are totally going to love these 3 Ingredient No Bake Vegan Brownies.  They are super simple and they are refined sugar free!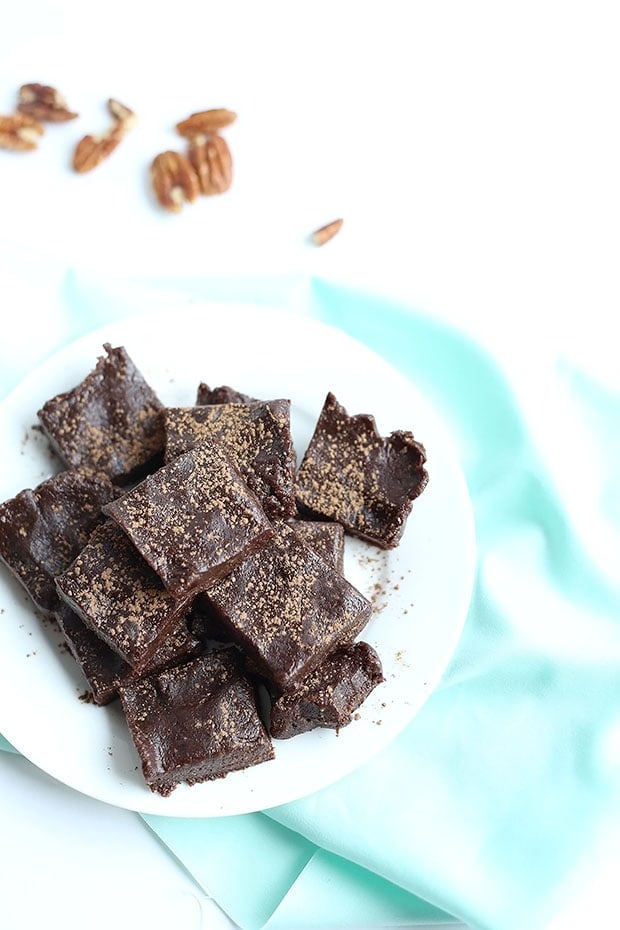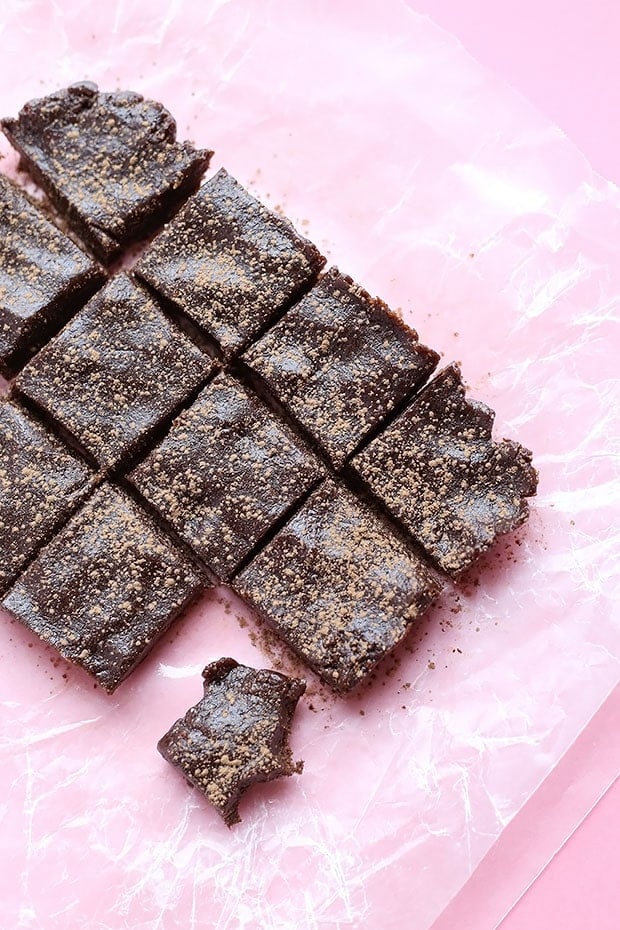 Let's break this down… all three ingredients go right into a food processor!
The first ingredient is where the sweetness comes from ,the medjool dates, make sure you remove the pit before adding to the food processor!
The next ingredient is the cocoa powder, I used regular plain unsweetened cocoa powder  but if you prefer to use raw cacao powder that's perfectly fine too!
And lastly but definitely not least, pecans!  Really you can add any nut you prefer, almonds, walnuts anything.  You can even do half pecans and half walnuts switch it up with anything you like!
If you have a nut allergy you could even use seeds instead like sunflower seeds!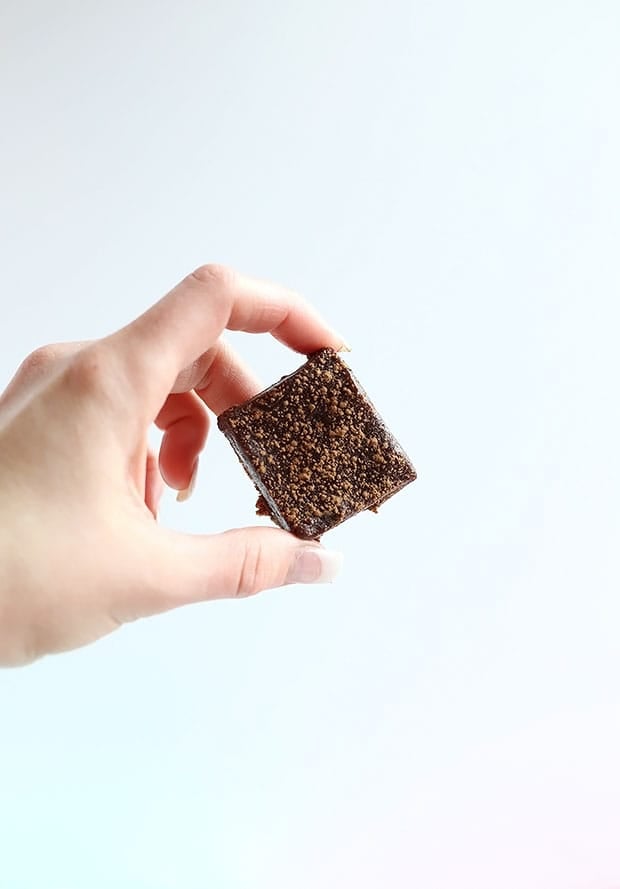 After you add everything into the food processor you will need to pulse until its all broken up and continue to blend (scraping the sides down as needed) until it starts to pull away from the sides and turn into a big clump! Usually it will clump to one side and that's when you know you are done! It takes 2-5 minutes depending on how many times you have to push the sides down!
Then place in a 4X6 dish lined with wax or parchment paper if you would like for easy removal! 😉 and pop in the freezer for about an hour! Remove and cut them into little brownies and store them in the fridge up to 1 week!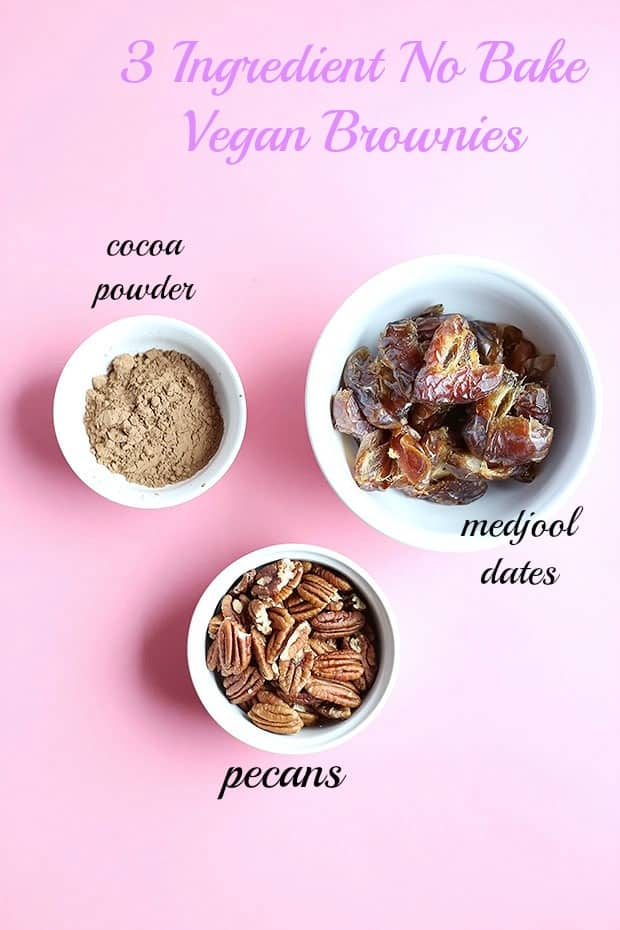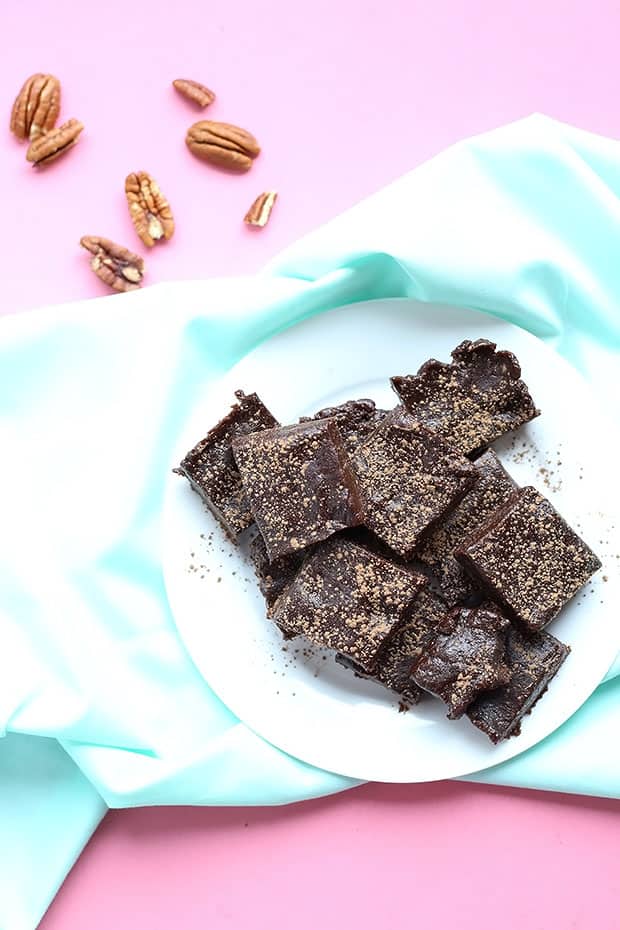 A few more things about these 3 Ingredient No Bake Vegan Brownies:
They are CHEWY!
Sweet!
Chocolaty!
Rich!
Nutty!
Healthy!
Easy!
Refined sugar free, vegan and gluten free!
AMAZING on some nice cream! (blended frozen bananas)
Great to pack for a snack in your purse or lunch!
Great to pack for kid's snack at school (obviously using seeds instead of nuts if your school doesn't allow nuts)
Totally addicting!!!
That's it! I hope you try it right away and let me know what you thought! 😉
Take a pic and tag me on social media of you do or leave a comment below!
I made a video so you can see exactly HOW EASY it really is! I hope you like and if you do I would love for you to hope over to YouTube and subscribe + share it so more people can see how easy healthy eating can be! 😉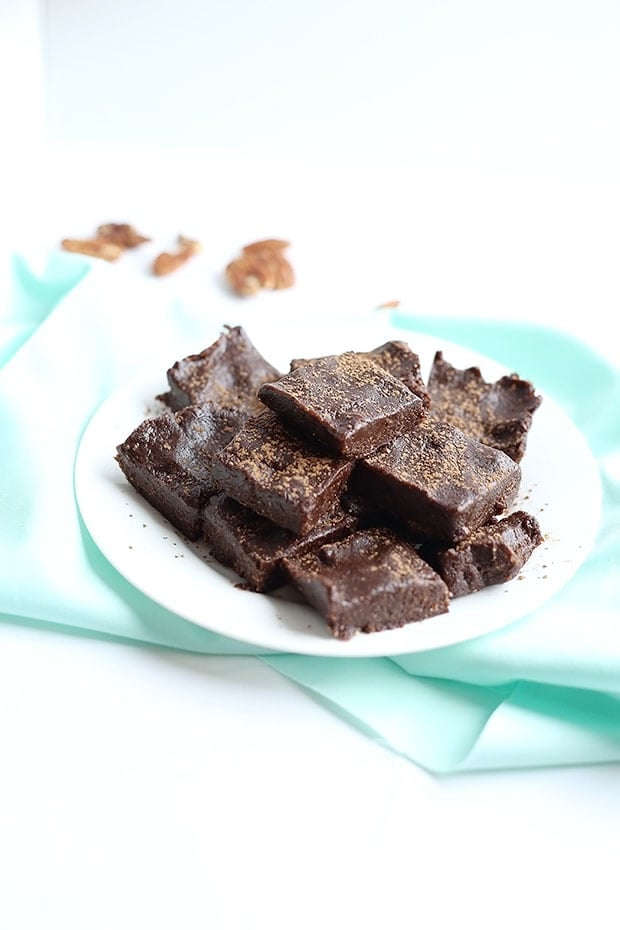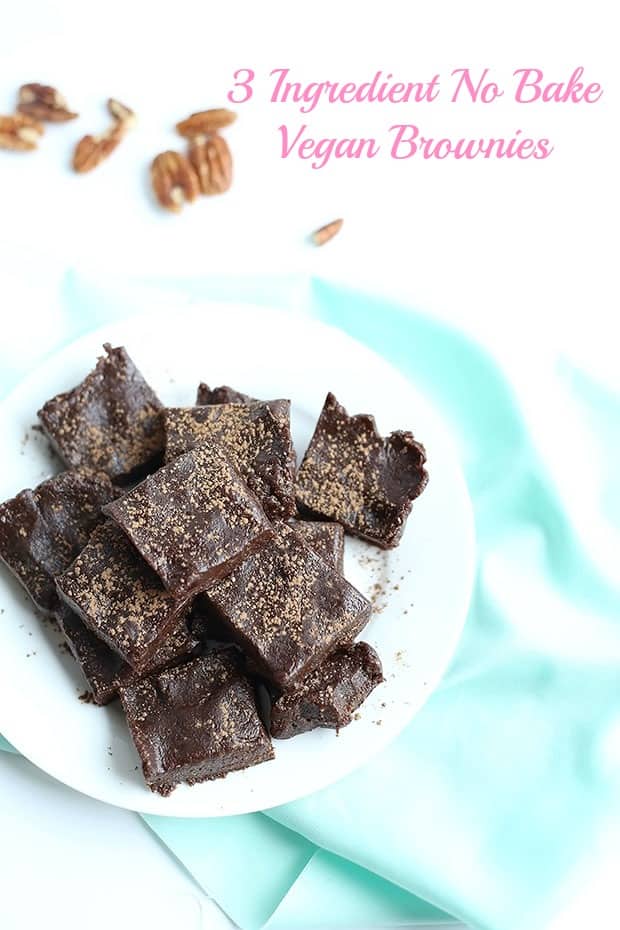 I hope you give this a try and let me know what you think! let's keep in touch too on TwoRaspberries, Facebook, Twitter, and Pinterest! 
want to PIN this for later? click here
and don't forget to sign up for email updates (drop your email in the box below!) 
*************************************
************************************
Print
3 Ingredient No Bake Vegan Brownies
3 Ingredient No Bake Vegan Brownies
Author: TwoRaspberries
Prep Time:

5 mins

Cook Time:

60 mins

Total Time:

1 hour 5 mins

Yield:

1

2

1

x
Category:

Snack/Dessert
1 ½ cup

pitted medjool dates

1 cup

nuts (I used pecans)

¼ cup

cocoa powder or raw cacao powder
Instructions
Place everything into a food processor and blend 2-4 minutes until it forms a big clump of sticky dough.
In a 4X6 pan/container pour the mixture and push down firmly, you can line it with parchment or wax paper first so it is easy removal (see video) .
Place in freezer for 1 hour, remove and cut into pieces.
Makes about 12 small brownies!
Store in fridge up to 1 week!
Notes
It will get well combined but look really loose while processing… keep blending until it forms a clump of really sticky dough… may need to push sides down a couple sides and will take about 2 minutes or more of blending.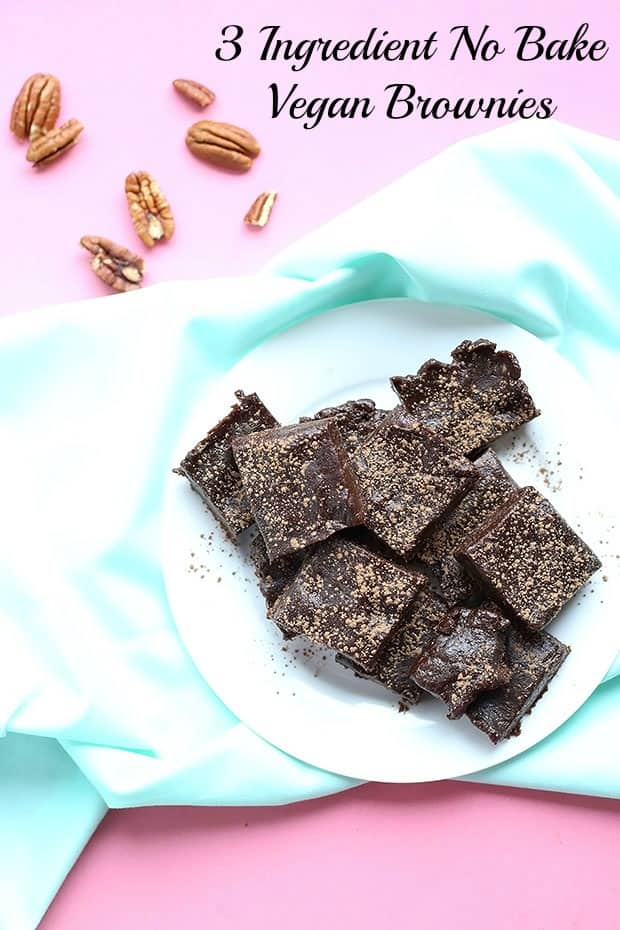 healthy + sweet + chocolaty!
check these out too!