these Gooey Chocolate Almond Coconut Stacks are Vegan, Gluten Free, Soy Free ... they are Gooey, Chewy, AND Crunchy!
Soooo, are you a lover of coconut haystacks? mounds? almond joy?
WELL me too but unfortunately those are all filled with a lot of nasties!
let me introduce to you, these Gooey Chocolate Almond Coconut Stacks 😉
So these little coconut stacks kinda of remind me of a birds nest!  We have a birds nest under our deck and up until today there were 4 big lil birdies in there... now there are only 3, one of them flew off today, I guess it was his time to fly off on his own and I'm sure the other 3 will be flying off in the next couple days also!
Anyways! that was SO off topic but they do look like little nests right? or is it just me?
OK on to these little babies! They are so heavenly and rich of chocolate and coconut with a hint of almond!
they are not like your traditional packaged treat from the check-out line at the store OR the sometimes hard and stale tasting candy you get! ISH! you know what I'm talking about the ones that taste less then fresh! lol
these are fresh and ooey, gooey, and chewy! the coconut gives it that chewy texture while the almonds give it the crunchy nutty flavor! and the cacao I mean HELLOO chocolate!
WARNING: these will totally get your fingers a little messy but trust me, it'll be worth it when your licking the leftovers off your fingers! 😉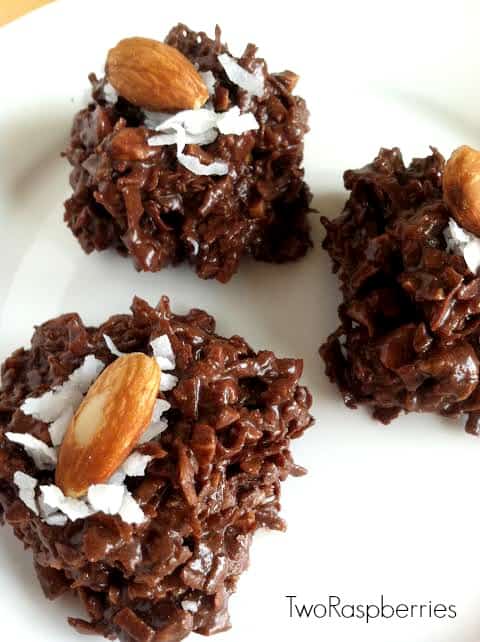 ***ARE WE FRIENDS YET?!
and sign up for our email updates (link in the sidebar)
Print
Gooey Chocolate Almond Coconut Stacks
Gooey Chocolate Almond Coconut Stacks
Author: TwoRaspberries
Prep Time:

10 mins

Cook Time:

3 hours

Total Time:

3 hours 10 mins

Yield:

1

0

1

x
Category:

Dessert
1 ¾ cup

coconut (I used shredded coconut but unsweetened coconut flakes work also)

½ cup

raw cacao powder (I used Navita's Naturals from Whole Foods)

½ tsp

sea salt

½ cup

almonds finely chopped

¼ cup

maply syrup

¼ cup

coconut nectar

¾ tsp

vanilla
Instructions
in a large bowl add your dry ingredients: coconut, cacao, salt, almonds
in a small bowl add you maple syrup, coconut nectar, and vanilla and stir together
combine the wet and dry together, at first t will look like it's not going to mix BUT I assure you, keep stirring and it will all melt together and become sticky!
line a cookie sheet or pan with wax or parchment paper, use a soup spoon and a regular spoon to make round mounds... scooping some mixture with the soup spoon and rounding it with the other spoon and using it to scoop it onto the lined sheet... use the small spoon to round it and then top each one with more coconut and 1 almond!
place in freezer 3-4 hours and then enjoy
* keep stored in the freezer or fridge, this is a very sticky ooey gooey chocolaty treat! but SO de-lish!
Notes
*** you can use all maple syrup OR all coconut nectar if you would like too, I used half and half for sweet-ness and sticky-ness but full maple syrup will be a little less sticky and full coconut nectar will be even more sticky! what ever your preference is!