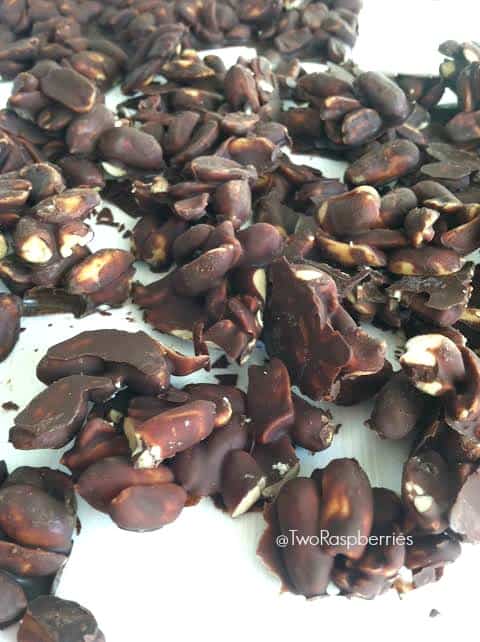 So ya know when you want a chocolaty snack but your too lazy to actually make something and everything "packaged" just doesn't sound very good...
say hello to the easiest chocolate covered peanuts EVER!
it's WARM out, it's WARM out! it's been in the 50's this week and it's supposed to get into the 60's later this week too!!!! can you tell this girl is EXCITED!
it's going to be so nice to start walking the pupperz everyday day again... the last couple days we have been walking twice per day!
anywaysss on to these Easy Chocolate Covered Peanuts...
These are SO EASY that they are DANGEROUS! 😉 this is one of those "snacks" that you just can't have 1 bite of... ya know the ones that you think oh I'll just have a piece and then all of sudden you have had like 10 pieces! yeah this is one of those!
3 ingredients that you probably already have in your kitchen!
completely addicting! 
you literally melt vegan chocolate chips and coconut oil in a pan and stir in peanuts and then stick them in the freezer!
***ARE WE FRIENDS YET?!
Facebook (daily posts)
and sign up for our email updates (link in the sidebar)
Print
Easiest Chocolate Covered Peanuts Vegan GF SoyFree
chocolate covered peanuts
Author: TwoRaspberries
Prep Time:

5 mins

Cook Time:

5 mins

Total Time:

10 mins

Category:

chocolate covered peanuts
½ cup

vegan chocolate chips

½ TBSP

coconut oil

2 cups

peanuts (salted or raw)
Instructions
in a pan over low-md heat
add you vegan chocolate chips and coconut oil and stir until smooth and creamy
add your peanuts and mix really well!
pour the mixture on a cookie sheet that is lined with parchment paper
place in the freezer for 20 minutes and them remove them and break into small pieces!
store in the freezer or fridge!
ENJOY!