Your going to love me for these! I'm telling you to eat a cookie for breakfast... Cause guess what?... It's healthy 😉 eat two for breakfast if you want 
yayyy for breakfast cookies 😉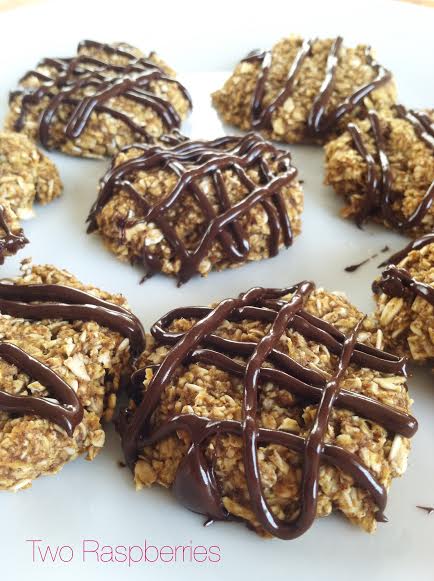 ok guys, these are so squishy yummy, yeah I said squishy cause they are but in a good way trust me!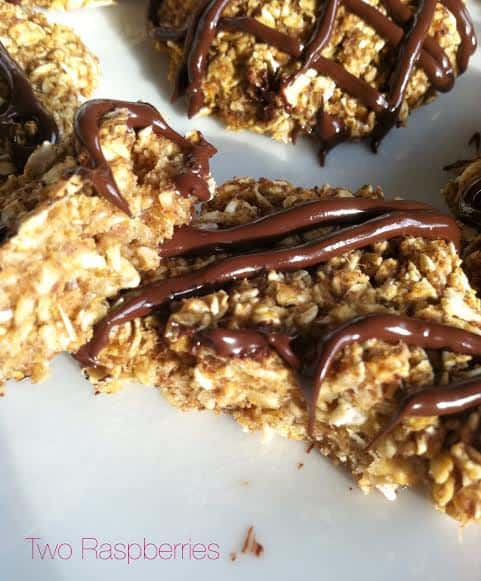 I think I ate 3 of them right away and then another 1 for breakfast the next morning... if your like me and you like to "snack" on things especially cookies then meet your new best friend or should I say friend'S!  I made these the size of a small cookie but you could totally make them even smaller so you could snack on ever more 😉
I don't know if I'm going though a phase or what but right now I'm really loving the whole small snack sized thing... but give it a few months I'm sure I'll go the total opposite way and make like a huge cookie or something... yeahhh just thinking about it is already making my brain go hmmm... hahaha seriously though that's how I am, I go in phases with my food I'll eat so much of one thing that I won't want it for a long time and move on to being addicted to a different flavor ... I don't know I'm kind of weird like that...is that even weird or is everyone else like that too???  😉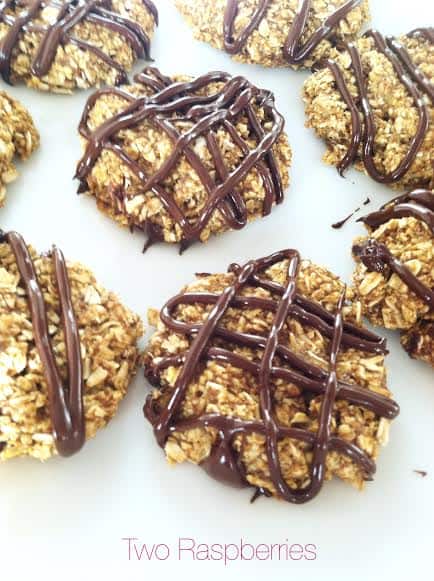 On to the cookie details!!!
These Pumpkin Spice Breakfast Cookies are Vegan, Gluten Free Soy free, PLUS... flour free and  oil free! can you believe it! they are so healthy and freakin delicious 😉
they are filled with Oats (that have been pulsed in a mini food processor)  so that makes this cookie filling a healthy
I've also added banana and pumpkin pureee which are both healthy and very filling as well plus your getting a little fruit in there from the bananer  which is always a good thing!
also I added Pumpkin Spice to make the cookie smell and taste ah-mazing!!!
then to give it a lil more... this is optional but it makes it so pretty... chocolate drizzle on top the cookie... YUMMM!!!
so go on try this recipe and have your self a cookie (or two, or three... I won't tell) for breakfast! 😉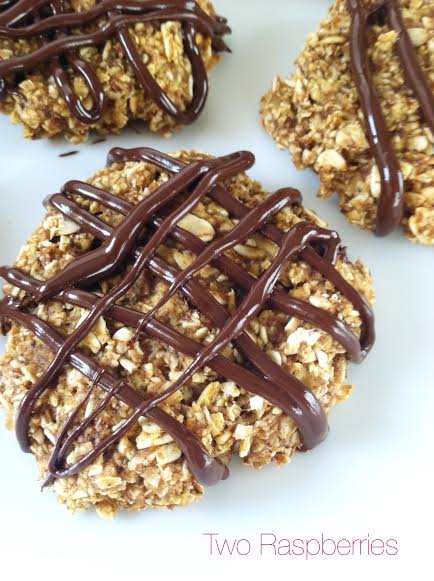 Hope everyone enjoys this yummy healthy breakfast or snack!
don't forget to follow us on:
and sign up for our email updates (link in the sidebar)
Print
Pumpkin Spice Breakfast Cookies Vegan Gluten Free Soy Free
Pumpkin Spice Breakfast Cookies Vegan Gluten Free Soy Free
Author: Two Raspberries
Prep Time:

10 mins

Cook Time:

14 mins

Total Time:

24 mins

Yield:

8

1

x
1 ½ cups

oats

2 tbsp

sugar

½ tsp

salt

1

-

1 ½

tablespoon pumpkin spice (depending on your liking)

1 tsp

vanilla

¼ cup

pumpkin purée (plain pumpkin from a can NOT pie filling)

½

medium banana
Optional drizzle on top

¼

vegan chocolate chips
Instructions
Pre-Heat the oven at 365 and line a cookie sheet with parchment paper
Take your oats and put them in a food processor (I used my ninja mini food processor) and Pulse until it turns into a coarse flour (not so much that's it's a smooth flour you want to leave some chunks in the flour for texture)
Transfer the oats flour into a bowl and add your sugar, salt, and pumpkin spice ...stir
In a separate bowl add your banana, pumpkin, and vanilla and mash it all together until lost chunks are smoothed out
Add your wet mixture into your dry and mix well
Note: you are going to think oh my gosh this isn't going to mix but trust me, it will keep smashing it all together using the back of your spoon or spatula
Scoop out onto your lined cookie sheet about 2 tablespoon per cookie, and push down and form your cookie shape!
Put in the oven for 14 minutes... They will feel soft but after you let them cool for at least 15 min they will Firm up
If you want to add Chocolate drizzle , melt your Chocolate chips in a bowl for about 30-45 seconds and transfer into a piping bag or sandwich bag and use a toothpick to poke a super tiny hole in the end... Drizzle over cookies (while they are on the lined cookie sheet for easy clean up!)