This Healthy Vegan Cinnamon French Toast is the perfect healthy weekend breakfast! It's soft, flavorful and really easy!
I can't believe it'as already November!!!! but with the chilly weather here it's never been a better time for a warm weekend breakfast! am I right!?
Anyways, weekend breakfast has never tasted SO good! I haven't had french toast in like a year since your supposed to dip them in an egg wash!
That all changed when I was determined to find something to replace that egg! Since bananas work well in baked goods to replace the egg, I thought... Idea! Tried it and VOILA!
I promise you it's even better than regular french toast! ... unless your a true banana hater! :-/ then I just can't help ya quite yet ha! 😉 maybe someday... but not now... Cause I loveeee my bananas so if your with me, then THIS is for you!!! 🙂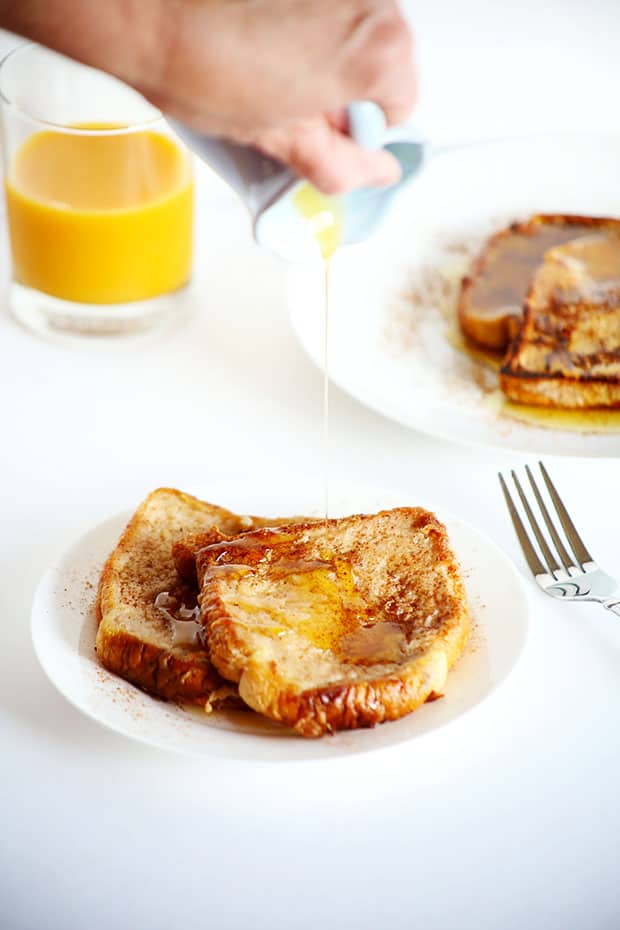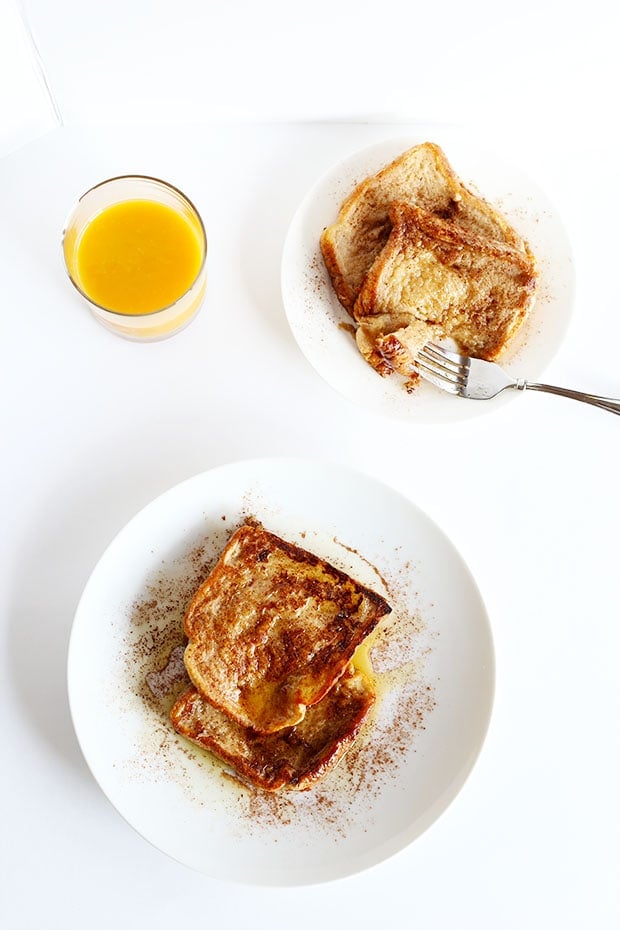 So this comes together really fast and easy, basically toss you wet mixture ingredients in a food processor, dump the mixture into a bowl so you can dunk your bread! Dunk each piece of bread in the mixture, fry them up and enjoy!
I know that some of you are going to say you don't like bananas and ask if there is a substitute for it... the answer is nope! I have only tried this with bananas so try anything else at your own risk! 😉
another thing, this is NOT the same texture as french toast you make with eggs and the type of bread you use affects the texture A LOT (softer or more firm) so be sure to read the notes above the recipe carefully!
a few more exciting things about this Healthy Vegan Cinnamon French Toast:
it's Healthy!
Fast and easy!
Flavorful
Cinnamon good-ness!
Perfect weekend breakfast
EGG FREE!!!
Soft
And you totally need it in your life asap!
I hope you give it a try and love it as much as we did!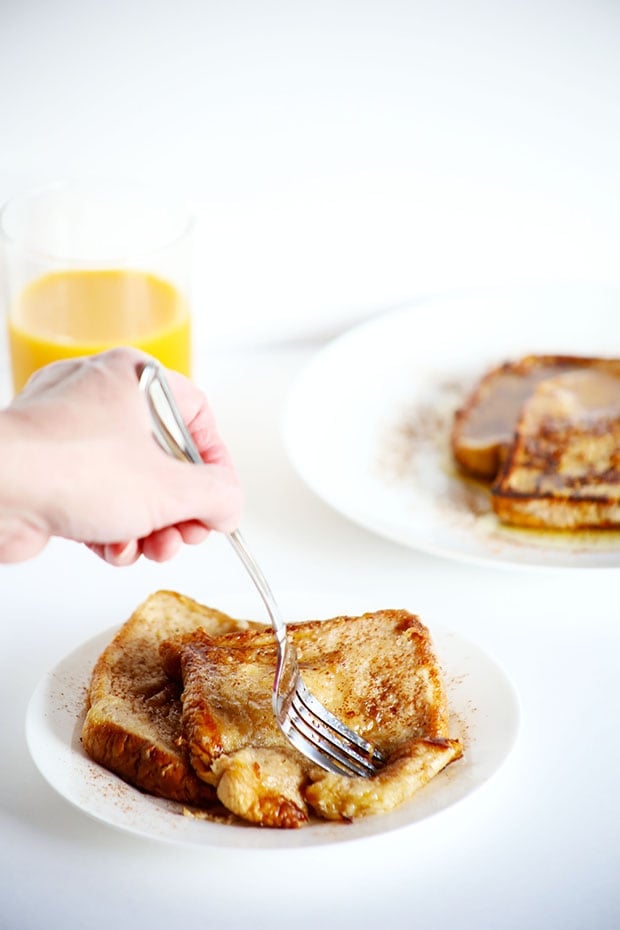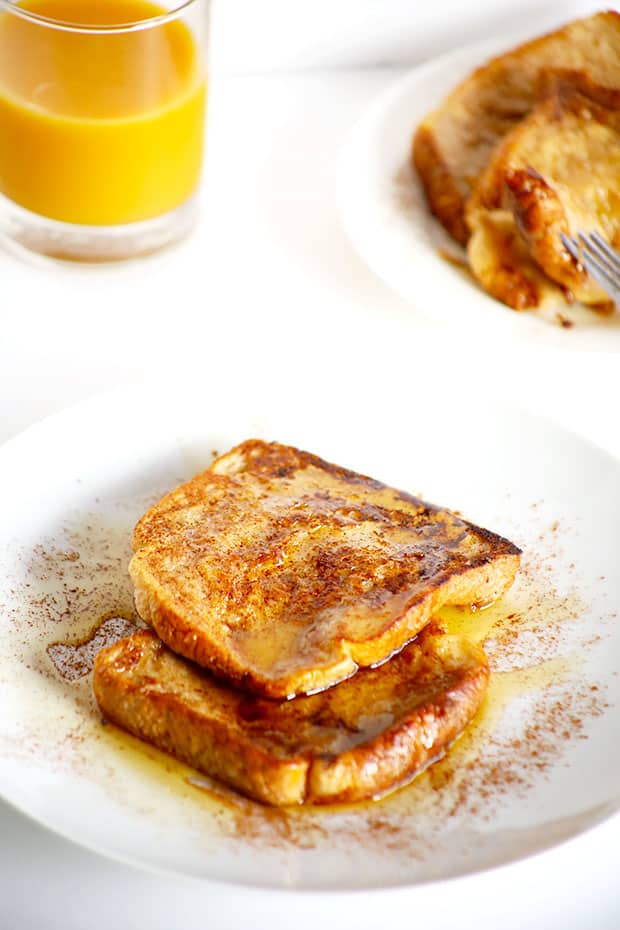 I hope you give this a try and let me know what you think! let's keep in touch too on TwoRaspberries, Facebook, Twitter, and Pinterest! 
want to PIN this for later? click here
and don't forget to sign up for email updates (drop your email in the box below!) 
*********************************
*******************************
NOTE: the type of toast you use (firmer of softer) will affect the density of the toast, because bananas hold a lot of moisture a soft toast will be very very soft almost soggy for lack of a better word but I actually like that ... BUT a firm toast (wheat or like a french bread) will be more sturdy... but with either one note that it will take longer for this french toast to cook than your average french toast with eggs just because bananas are much more moist! 
Print
Healthy Vegan Cinnamon French Toast
Healthy Vegan Cinnamon French Toast
Author: TwoRaspberries
Prep Time:

5 mins

Cook Time:

10 mins

Total Time:

15 mins

Yield:

3

1

x
Category:

Breakfast
Blending Ingredients:
1

-

2

ripe bananas (depending on size

2

small or

1

large)

¾ cup

of unsweetened vanilla almond milk (I use SILK brand)

1 tsp

of vanilla

½ tsp

of cinnamon

¼ tsp

all spice
Everything Else:

6

slices of thick Texas toast

2

-

3

tablespoon vegan butter
*extra cinnamon for topping
*maple syrup for topping
Instructions
In a food processor or blender, add your bananas, almond milk, vanilla, cinnamon, and all spice and blend until smooth!
Add about 1 tablespoon butter (maybe a tiny more) to a skillet and turn on medium heat, once butter is melted all over the skillet dip one slice at a time of bread into the mixture and place on the skillet, repeat with however many fit in your skillet at one time! Let cook approx 2 minutes or until golden and then flip to the other side gently! Repeat until all bread and wet mixture is gone.
Top with extra cinnamon and maple syrup!
makes about 6 slices / about 3 servings
Notes
if you like your french toast really soft then dunk each piece of bread in the banana wash and place right on the skillet, if you like it more crisp on the edges then dunk the bread and run your fingers along each side to get off some of the excess so it's not such a thick layer of banana wash!
please note that this will not get as crispy as traditional French toast due to the fact we are using banana and not egg, but it can get a little bit of crips on the outside, though the center will remain soft.
---
can always use a more firm toast if you don't like it soft.